This visit Behind the Mic brings us a chat with Khristine Hvam, co-narrator of EXTRAORDINARY MEANS. Author Robyn Schneider sets a stage in a not-so-distant future, when a virulent strain of tuberculosis is sweeping the U.S. In a dual narration, Khristine and James Fouhey tell the story of two teens who are battling the epidemic.
"We sometimes forget what strength and power teenagers really have."—Narrator Khristine Hvam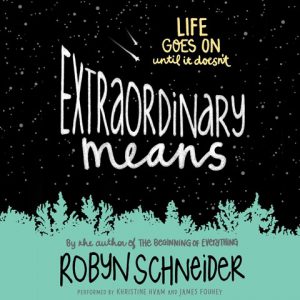 EXTRAORDINARY MEANS
by Robyn Schneider
read by Khristine Hvam and James Fouhey
AudioFile Earphones Award
Best Audiobook of the Year, 2015
A perfect choice for YA listening—and a featured title in our summer SYNC: Audiobooks for Teens summer program. Khristine and James share the interwoven story of Lane and Sadie. It's heart-wrenching yet ultimately hopeful story about the miracles of first love and second chances. Listen to a sound clip and read AudioFile's full review.
Khristine Hvam makes great connections to the characters of YA and fantasy audiobooks—whether Eelyn, a warrior in the Aska clan, in SKY IN THE DEEP or the teens of Meredith Miller's LITTLE WRECKS. She also brings alive the young people in Debbie Macomber's IF NOT FOR YOU. Khristine also narrated Emma Donoghue's brilliant FROG MUSIC, as well as ASTRAY.  Explore all the audiobooks in Khristine's audiography.