Like millions of others around the world, I went and saw Black Panther last weekend and was completely blown away. It was an amazing movie, and if you haven't seen it yet, go!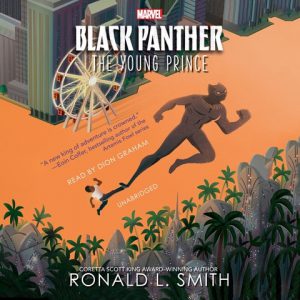 There are many comic book explorations of superhero Black Panther out there, but only one has been recorded as an audiobook so far. BLACK PANTHER: The Young Prince is read with urgency and excitement by Dion Graham. As I left the theater, I was struck by the many outstanding science fiction and fantasy audiobooks that those who loved the world of Black Panther and Wakanda could dive right into, even if they are set outside of Marvel's universe.
This was driven home when I started listening to the soon-to-be-released CHILDREN OF BLOOD AND BONE by Tomi Adeyemi. It's a fast-paced audiobook set in a West African fantasy world where magic has been stolen and those who wielded it murdered. Eleven years later, teenagers are fighting to restore magic while learning to use their newfound powers to save or destroy lives. Bahni Turpin is an astounding narrator, and I can't wait to hear what happens next (stay tuned for my review).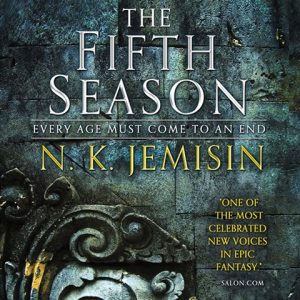 N.K. Jemisin's Broken Earth Trilogy is set in a distant future of Earth, in a time when powerful "orogens" have evolved to control seismic activity, but they are in turn enslaved or hunted down by Guardians. It's an intense series of stories about race, power, bigotry, fear, and family, and is unlike anything else I've read. Her whole series shines on audio as read by Robin Miles, and I hope you dive right into Hugo Award-winner THE FIFTH SEASON. If you're want to know more, watch Robin Miles's Behind the Mic video she recorded for the last book of the trilogy, THE STONE SKY.
If you loved the technology behind Black Panther, start listening to BINTI, where a young girl is the first of her Himba people to be asked to go to the galaxy's finest university. Sixteen-year-old Binti is an outsider as she travels in a living spaceship to the university, but tragedy strikes on the way. Nnedi Okorafor is the author of many Afrofuturist books, and has also contributed to the Black Panther universe with the comic BLACK PANTHER: Long Live the King.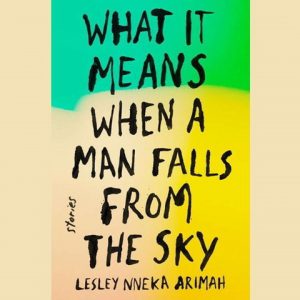 If you're looking for a shorter introduction to the Afrofuturist genre, I recommend listening to WHAT IT MEANS WHEN A MAN FALLS FROM THE SKY. Nigerian author Lesley Nneka Arimah writes stunning short stories, and Adjoa Andoh reads her audiobook with dramatic versatility. I first encountered Arimah's work on the podcast LeVar Burton Reads, where LeVar reads the speculative title story.
There's also Octavia E. Butler, Tananarive Due, Nalo Hopkinson . . . I could go on! But I'll restrain myself. I hope we've helped you find some new fantastic worlds to explore!