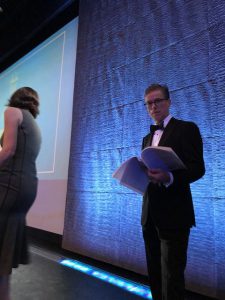 Did I mention that in addition to writing this blog and reviewing mysteries for AudioFile, I also have the privilege of being a judge for the Audie Awards? In that capacity I was invited to the May 31st Audie Award ceremonies, which were held at the New-York Historical Society, hosted by one of my all-time favorite narrators, Simon Vance, who had to fill the shoes of prior years' host, Paula Poundstone. That is an awful lot to ask of an audiobook narrator, even such an accomplished one as Simon Vance, who is accustomed to working off a script. Here he was asked to "riff." Simon managed to charm the audience with sophisticated humor and even dance across the stage when the slides failed. Bravo, Simon Vance!
The New-York Historical Society provided a charming setting for the event. The hall lined with historical paintings and photographs and the tables with centerpieces made up of audiobook CDs and scrabble letters spelling out award categories were a perfect backdrop for the audiobook celebrities bedecked in gowns, tuxedos (a few of the men in kilts), wearing the most sought-after jewelry of all—the yellow-ribboned finalist medals.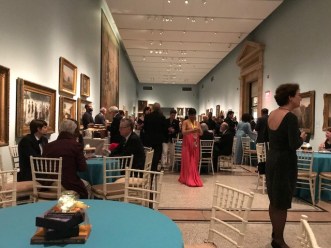 You can have your Oscars! The Audies conduct the best award ceremony; With the exception of Best Male and Best Female Narrator and Audiobook of the Year, there are no acceptance speeches. Yeah! When the winners are announced, they stand up and everyone applauds. Then it is on to the next award.
Audiobook mystery fans will be pleased to know that the winner for Mystery was David Lagergrantz's THE GIRL WHO TAKES AN EYE FOR AN EYE, narrated by the evening's host himself, Simon Vance. And that SHERLOCK HOLMES, by Arthur Conan Doyle with commentary and narration by Stephen Fry, took the Excellence in Production Award.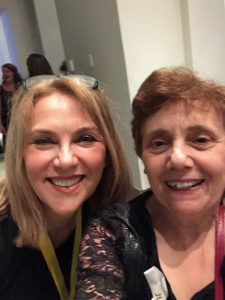 But I have to confess that the highlight for me was getting to meet Lorelei King, who among other works, performs Janet Evanovich's Stephanie Plum series—the latest one being HARDCORE TWENTY-FOUR. Having only seen pictures of her, but having listened to her narrating for hours, I kept trying to identify her by her voice—somehow, I expected Stephanie Plum to show up in my ear. I finally did catch up with her, and she was charming and very generous in taking a selfie with me (for which she had to seriously bend down for us both to get in the shot). Thank you, Lorelei.