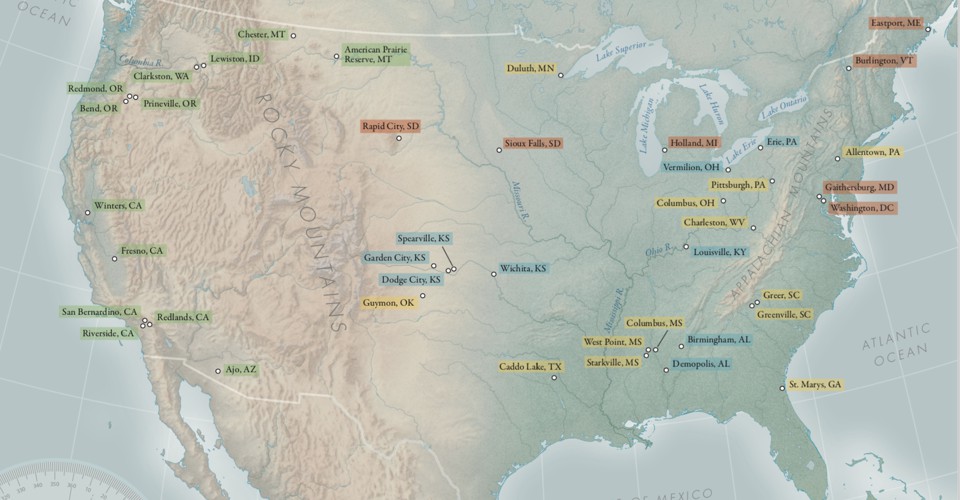 Two audiobooks we reviewed this week made me think about what a great variety of communities and lifestyles we have across the country. Several recent audiobooks have brought to mind small towns. The cross-country journeys of authors James and Deborah Fallows to small communities across the U.S. are the topic of OUR TOWNS: A 100,000-Mile Journey into the Heart of America. Reading about the audiobook, I was curious what the authors learned, and about the places they explored, like Erie, Pennsylvania, or Fresno, California. James Fallows wrote an article for The Atlantic, "The Reinvention of America," just as the book and audiobook were released.

John Branch picks up the small-town theme, looking at the old and new West in THE LAST COWBOYS: A Pioneer Family in the New West. It intrigues me for its combination of a real, hard life and the excitement of rodeos. In contrast, personal finance blogger Elizabeth Willard Thames makes the choice to live as a Vermont homesteader in MEET THE FRUGALWOODS: Achieving Financial Independence Through Simple Living. The Frugalwoods' web site chronicles the family, including Babywoods and Frugal Hound, with charming and inspiring thoughts—and photos!
Lewiston, Maine, a town that's right here near us, is the subject of a story about what a sports team can do for a community: ONE GOAL: A Coach, a Team, and the Game That Brought a Divided Town Together. These are the individual themes from OUR TOWNS fleshed out on their own. It makes me think of the many things that are good and inspiring about our communities. It reminds me of Melody Warnick's audiobook, THIS IS WHERE YOU BELONG: The Art and Science of Loving the Place You Live, not just for appreciating where we live, but also what each of us can bring to making it better.
For another twist on the Summer Road Trip, check out the audiobooks Jo Reed and I picked for a particular kind of traveling music last summer, in one of our podcast conversations for The Download.