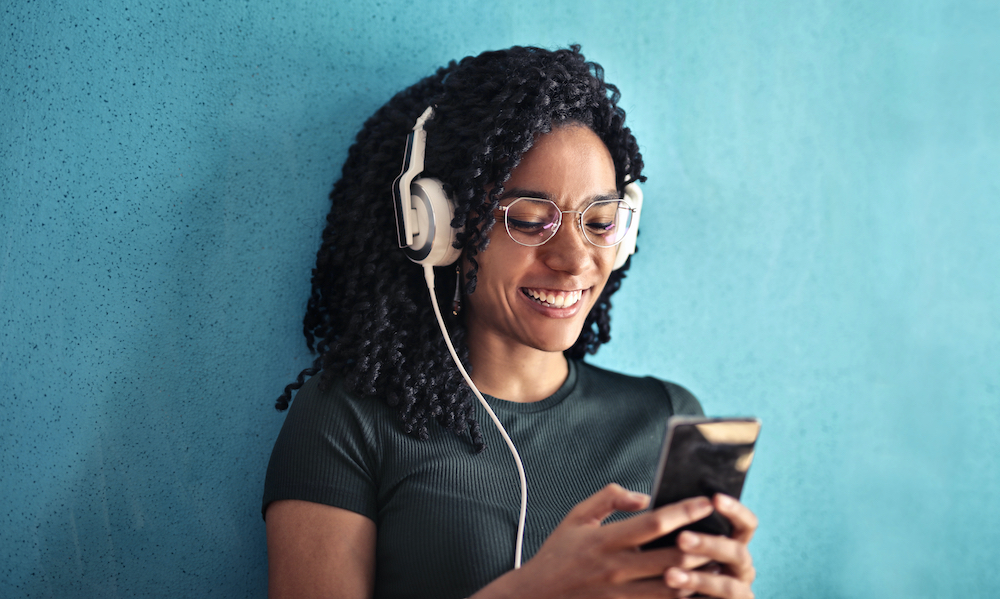 I'm reporting from the U.S. epicenter of the pandemic, New York City—Brooklyn, to be exact. I feel like I am in a terrifying Stephen King novel with no end. The streets are eerily deserted and spookily quiet. I have a view of the Brooklyn Bridge out my window—the walkway, always packed with tourists and commuters, is empty. And my hands are sore from washing them to protect me and everyone from this invisible enemy.
Yet I am grateful. I wake up every morning expressing my thanks for making it through another day unscathed. And I send wishes of strength for those who have been directly touched.
And with all of the mounds of advice out there for how to retain your equanimity under these circumstances, I want to offer up one additional strategy: listening to audiobooks, and particularly listening to those that will take you out of your world and actually make you laugh.
This has proven particularly useful for me living in an apartment in NYC. Those familiar with New York City living arrangements know that we live in small spaces which have shrunk considerably with the number of people and number of waking hours we are now spending at home. When my husband, the news junkie, has the radio or TV on in all rooms listening to the latest updates that aren't updates at all, I can tune out with my earphones in place. Sometimes when the world is too much with me, it's the best medicine.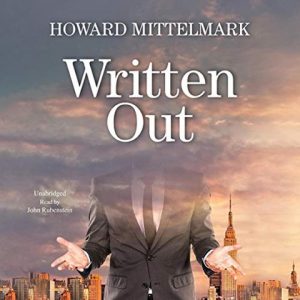 Here are some audiobooks that might be just what you need to bring a little light into these dark days:
WRITTEN OUT by Howard Mittlemark earned narrator John Rubenstein an Earphones Award. The laugh-out-loud dark comedy's protagonist, Roger Olivetti, is an editor/writer whose personal and professional lives unravel. Rubenstein (who also narrates one of my favorite series—Jonathan Kellerman's Alex Delaware books) is in perfect pace with the author's comic timing. Not easy for a narrator to pull off.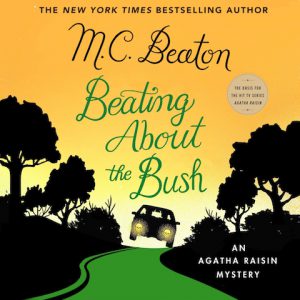 In remembrance of the prolific author M.C. Beaton, who passed away in January 2020 at age 83, I invite you to enjoy BEATING ABOUT THE BUSH, narrated by Penelope Keith. This, the 30th book in the Agatha Raisin series, is a funny and engaging listen. And if you enjoy it, you have 29 additional books in the series to go back to. The series takes place in the surprisingly deadly English countryside that we have come to love and be wary of in all of the British mystery series we have been binging.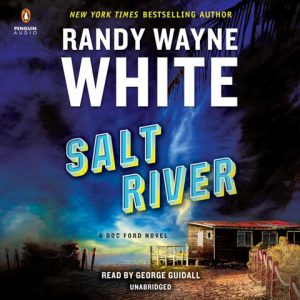 Coming back to the U.S. and to the Sunshine State, I recommend SALT RIVER, Book 26 in Randy Wayne White's Doc Ford Series. Golden Voice George Guidall brings all his many talents to the series. This latest entry focuses on Tomlinson, one of Doc Ford's buddies. A highly intelligent and often stoned eccentric, Tomlinson is usually the source of comic relief in the action-packed plots. Focusing on Tomlinson's newfound fatherhood provides a lot of opportunity for levity. George Guidall's voice in my ears while I am washing my hands for twenty seconds for the twentieth time is very comforting.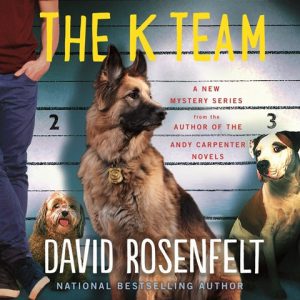 And back to my neck of the woods—you might enjoy THE K TEAM by David Rosenfelt, narrated by Fred Berman and set in New Jersey. This is the first in a new series that builds on several characters from Rosenfelt's Andy Carpenter series. It also carries forward Rosenfelt's sarcastic, sharp wit and his love of dogs.
Friends and fellow listeners, I urge you to stay at home, stay safe, and find ways to find sparks of light in all this craziness. Please let me know which audiobooks are providing you comfort through the isolation.
Photo by Andrea Piacquadio.