In Bill Konigsberg's latest novel for teens, THE MUSIC OF WHAT HAPPENS, Max and Jordan meet by chance when Jordan and his mom are trying, and failing, to get their family food truck business going again. But Max needs a job, so he and Jordan spend their summer vacation working to to make the business a success—in hotter-than-hot Arizona. In the video below, Anthony Rey Perez, who performs from Max's point of view, shares why this story of identity and authenticity appealed to him.
"What drew me to this story were the layers of in between. I love how the character I read, and all of the characters, aren't the stereotypical idea of social normative, whether it be based on their culture or sexual identity."—Narrator Anthony Rey Perez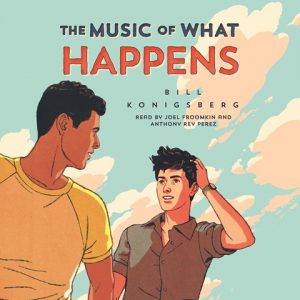 THE MUSIC OF WHAT HAPPENS
by Bill Konigsberg, read by Joel Froomkin, Anthony Rey Perez
Scholastic Audiobooks
Through the empathetic performances of two narrators, we meet gay Arizona high schoolers Jordan and Max, and their families and friends. Joel Froomkin brings high-strung energy to Jordan, who has a poetic sensibility and a slacker attitude. As confident jock Max, Anthony Rey Perez has an authentic, natural-sounding charm. As the boys fall for each other, Froomkin and Perez's heartfelt portrayals ensure that listeners are in sync with the characters as they deal with everything from a traumatic sexual encounter and mental health issues to toxic masculinity and figuring out how to be true to oneself.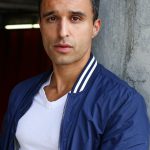 Anthony also just won an Earphones Award for his performance of the middle-grade novel SAL AND GABI BREAK THE UNIVERSE. For more on THE MUSIC OF WHAT HAPPENS, read our interview with author Bill Konigsberg, featured in the April/May 2019 issue of AudioFile magazine.