I know I'm not alone in welcoming warmer weather. Like so many others in the Northern Hemisphere, I couldn't be happier to finally see spring. I love opening the windows and spending as much time as possible in the great outdoors. Whether I'm on the beach or in the woods, in my garden or relaxing on my deck, I'm all about enjoying the natural environment.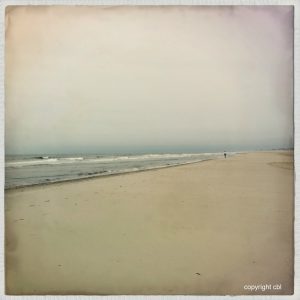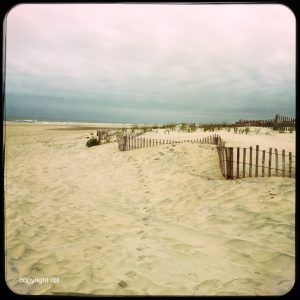 When Mother Nature won't cooperate, and I'm cooped up inside because of rain or cold, I can still get my nature fix thanks to audiobooks. Sometimes I'm looking for a novel set in a remote locale or an outdoor adventure story; other times I want to be inspired to be a better advocate for planet Earth.
Today, however, I want an upbeat nonfiction audiobook that will teach me more about plants and animals or help me to better appreciate the world around me. Today's Take 5 recommendations meet these requirements and take us from ocean to farm to sky.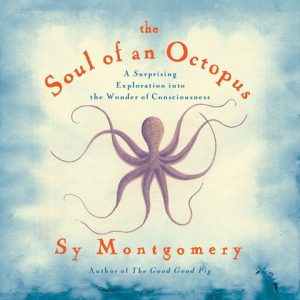 Have you ever fallen in love with a type of animal? Are you a dog person or a cat person? How about an octopus person? Yes, you heard me. In THE SOUL OF AN OCTOPUS, author-narrator Sy Montgomery shares her fascination with and enthusiasm for the many-legged invertebrate. Besides discovering interesting facts (octopuses can taste through their skin), we're treated to the story of Montgomery's special relationship with the octopuses housed in the New England Aquarium.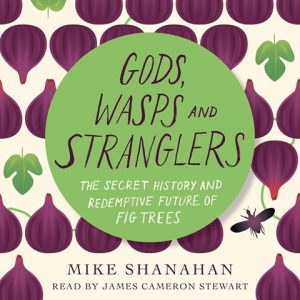 What do you know about fig trees beside the facts that it offers a delicious fruit and has large leaves, suitable for hiding Adam and Eve's nakedness? After listening to James Cameron Stewart narrate GODS, WASPS, AND STRANGLERS by Mike Shanahan, you'll learn about the fig tree's significance to human culture and religion around the globe as well as eye-opening information about its natural history, such as its ability to rejuvenate rain forests and its dependence on only a single species of wasp for pollination.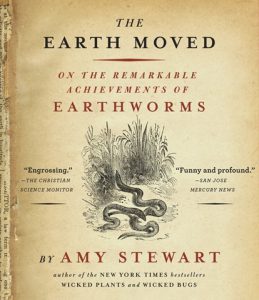 Most of us don't spend a lot of time thinking about worms. We might notice them on the sidewalk after a heavy rain or watch them burrow down when we've turned over a flower bed, but that's about it. Amy Stewart, a gardener, became curious about worms and shared her discoveries in THE EARTH MOVED, read by Heather Henderson. You probably know that worms will improve your compost heap, but did you know that earthworms are vital to the earth's ecosystems, or that scientists use earthworms to study everything from plate tectonics to pollution? As you plant your gardens this year, remember to say thank you to our wiggly friends.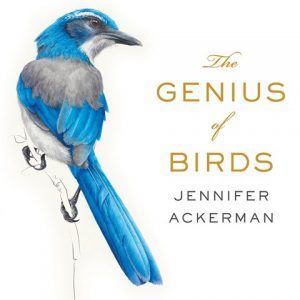 One of the best presents I ever got was a bird feeder; it has given me years of pleasure. After I learned to identify the birds I saw in my yard, I wanted to know more about our feathered friends in general, so I decided to listen to Jane Ackerman's THE GENIUS OF BIRDS, read by Margaret Strom. I knew that crows were supposed to be smart, but I hadn't realized the extent of birds' brainpower, such as their awareness of space, sense of smell, and ability to distinguish objects. This audiobook changed the way I think of birds.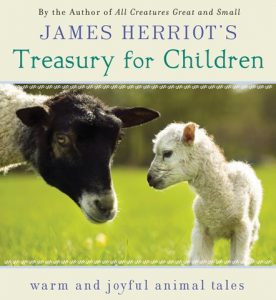 I can't make a list of nature audiobooks without a nod to James Herriot, whose animal stories are some of the most charming you'll ever hear. His early works, narrated by the wonderful Christopher Timothy, were among the first audiobooks I ever listened to. More recently, Jim Dale performed the eight stories collected in JAMES HERRIOT'S TREASURY FOR CHILDREN. Young and old alike will love these tales of life in the English countryside and will easily relate to the deep feelings farmers (and the veterinarian) have for their barnyard animals and household pets.
Have you listened to any of these audiobooks? What other feel-good nature and animal books should I add to my list?