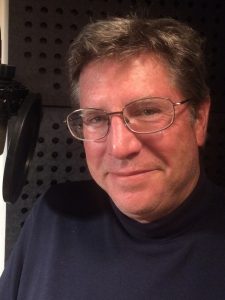 I don't know why I always associate veteran narrator Grover Gardner with nonfiction, because although he does indeed narrate history, biography, and theology, he has worked on a full range of genres, everything from horror to light kids' stories. While I'm not likely to listen to Grover's Earphones Award–winning performance of THE STAND (I think it might be too spooky for me), I enjoy listening to his "charming voice" on much tamer audiobooks.
Grover has narrated hundreds of titles (no exaggeration), so it was just a little difficult to pick only five to show off his work. The titles featured today reflect my own tastes: These are audiobooks I recommend or that are on my personal to-be-listened-to wish list.
5 Audiobooks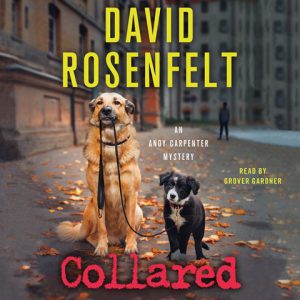 I can't make a list of Grover's work without including David Rosenfelt's Andy Carpenter mystery series. Set in New Jersey, the audiobooks star multi-millionaire Andy, a dog lover and part-time attorney. All of Andy's cases involve at least one canine and feature the Tara Foundation, a real-life dog rescue organization founded by Rosenfelt. Grover has performed the entire Andy Carpenter series, earning several Earphones Awards for his impeccable portrayal of the wisecracking lawyer and his quirky associates. COLLARED is the 16th book in the series; jump in here, or follow Andy's complete career starting with OPEN AND SHUT.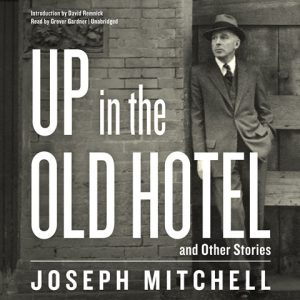 Writer Joseph Mitchell was probably best known for his astute profiles of people living on the margins of society. UP IN THE OLD HOTEL is a compilation of his essays, many of which originally appeared in The New Yorker. The variety of individuals and unique circumstances in this collection provides a wonderful canvas for Grover's talents at creating thoughtful characterizations. As our reviewer noted, Grover's performance "is a listening experience to savor and share, and return to."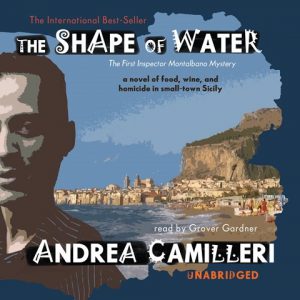 I recently discovered Andrea Camilleri's Inspector Montalbano mystery series set in Sicily. These short police procedurals combine a mystery with social commentary, humor, and vivid descriptions of Montalbano's meals (be prepared to be hungry!). Grover voices the characters with a nuanced accent, creating an Italian atmosphere without spilling into parody. The audiobooks also allow Grover's excellent comedic timing to shine, as Montalbano interviews local villagers, deals with the mafia, and copes with less-than-brilliant colleagues in the police department. I started with THE SHAPE OF WATER, the first in the series, and am grateful Grover narrates all 19 books that have been translated into English.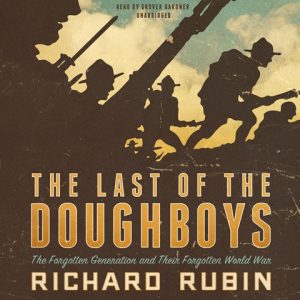 This year marks the 100th anniversary of World War I, a war that seems to take a backseat to other U.S. military engagements (Civil War, World War II, Vietnam). Just after the turn of the 21st century, author Richard Rubin took the time to track down the remaining American veterans of the Great War, all of whom were centenarians, and then shared their stories in THE LAST OF THE DOUGHBOYS. Grover's expressive delivery enlivens the history and connects listeners to the personal recollections of the dozen or so American men and women whom Rubin interviewed. This is a powerful audiobook that honors those who risked their lives to serve their country.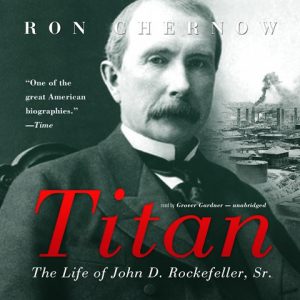 Combine Ron Chernow's clear writing with Grover Gardner's clear voice, and you end up with an accessible, easy-to-listen-to biography, as demonstrated by the audiobook TITAN, which reveals the many sides of John D. Rockefeller, Sr., from ruthless businessman to generous philanthropist. Grover's "deep, resonant voice" is a good match for the Gilded Age's richest man, whose personal life was not as enviable as you might imagine. Narrators of nonfiction must be skilled at distinguishing between the narrative and quotations; Grover, an expert at this, never lets me down.
5 Questions
So who is this man whose voice as been described as "sandpaper and velvet"? I put Grover Gardner in the hot seat; let's see how he held up.
AudioFile: What genre will you always say or yes to (or no to), and why?
Grover Gardner: I will always say yes to a good history book, especially modern American history. Robert Caro's LBJ bios are probably my own personal favorites. But I also enjoy European and world history, ancient and modern. Continental mysteries, like the Inspector Montalbano books, are especially enjoyable, because they tend to emphasize culture and humor over violence. I just started a new series featuring a bungling Swiss art thief who turns private investigator. They're very droll. I don't often turn projects down, but many years ago I recorded a very long historical novel by a prolific mid-century American author, which I found to be more work than pleasure. The publisher then sent me an entire box of his other books, and I had to say no. I've never regretted it, but I'm not sure I'd have that luxury today! I find that narrators these days tend to be a little more careful about what they lend their voices to, which I think is entirely appropriate. In addition, more and more self-published authors are reaching out to narrators on an individual basis, and while so far I've had nothing but good experiences, you do have to look at the material closely. Sometimes you can end up doing more editing than narrating, and sometimes you get into agendas that you might not want to promote.
AF: What are you doing when you're not working?
GG: When I'm not narrating, I'm usually buried in my stereo system. For many years I've designed and built my own vacuum tube amplifiers. I've also built some for friends and colleagues. I think it's the most satisfying thing I've ever done. Give me a soldering iron and a box of transformers, resistors, and capacitors, and I'm happy as a clam. I recently switched over to digital audio, where everything is stored on a hard drive. It's a boon for collectors because you can keep thousands of albums in a little box instead of sacrificing every inch of living space to records and CDs. But it poses its own challenges. Getting it to sound as good as those old LPs is a challenge, so I've been learning about audiophile-level computer equipment and software, even building my own little computers for music playback.
AF: What's your most embarrassing moment in the recording booth?
GG: A long time ago I was recording a very difficult history title, and at one point I paused, coughed loudly, and said, "God, I need a cigarette." When we returned from a break, I guess the engineer just hit "record" again because that appalling remark got into the audiobook and stayed there, for years and years, until the audio finally went out of print. Most narrators and engineers engage in a fair amount of session chatter, some of it indicative of, shall we say, momentary frustrations, and it's sort of a miracle that it rarely sneaks into the final product. I know another well-known narrator who was recording some very dense material and at one point paused to remark, "I have no idea what I just read." That one got out there too, I believe.
AF: When reading for pleasure, do you find yourself creating voices and thinking about pacing and emphasis?
GG: I read a lot on my own, but it can be frustrating when I come across a lot of names or places I can't pronounce in my mind. I get hung up on it and eventually have to look them up so I can relax and keep reading. It makes me wonder how other people read to themselves, glossing over the hard parts and not really thinking about it! And sometimes I'll come across a passage so wonderful I can't help going back and reading it out loud, just to savor it.
AF: What are the pros and cons of working on a multi-narrator audiobook?
GG: My experience in this regard is more as a producer, and I can tell you it's a bear. You have to make sure everyone gets the same pronunciations and takes the same basic approach to the various character voices. Then you have to make sure everyone sounds basically the same, even though they might be working from ten different studios! Ideally you'd gather everyone together in one studio with a director, but that's rarely doable these days. Fortunately it's common enough now that experienced narrators are aware of the traps and will help out by being attentive to the challenges. As a narrator, you always worry whether your bit will fit in, but you have to trust the producer and press ahead.
Thanks so much for talking with us, Grover. I'm so impressed with your ability to build amplifiers. What a cool skill. I am, however, still laughing/cringing at the cigarette comment. I can only imagine how embarrassing that was for all involved.
To discover more audiobooks performed by Grover Gardner, be sure to explore his audiography page.