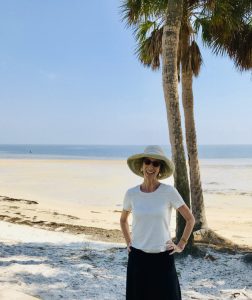 Ah, the joy of sun hats and short sleeves, palm trees and warm blue waters. Yes, that's me, escaping the icy Maine weather last month for some time on Florida's gulf coast. I prepared by listening to a fun mix of audiobooks (and by forgetting to pack my swimsuit and my husband's sneakers).
Lauren Groff set the scene with an Earphones Award-winning narration of FLORIDA, her arresting and quirky collection of beautifully told short stories, which was a National Book Award finalist. Her light, musical voice contrasts disarmingly with the dangers that lurk in her tales, which span characters, places, and centuries. They're captivating and dangerous, like peering close at a winking flower that's actually the eye of a camouflaged alligator.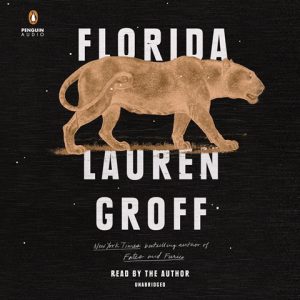 Florida has over a million alligators. On this trip, I saw seven, all of which evoked caution, respect, and fascination. They have been around for 200 million years.  Hominids for 6 million. I'd says that's match point to the family Alligatoridae.  Try telling that to the Bigtree family, owners of an alligator-wrestling theme park in Karen Russell's 2011 novel SWAMPLANDIA, which was nominated for the Pulitzer Prize. I'm so glad that I finally listened to it, because Arielle Sitrick and David Ackroyd fully inhabit the crazy-marvelous world created by Russell; a world in which Ava, the youngest Bigtree, sets out to rescue family members from their poor choices, such as running off with someone named the Dredgeman or joining a rival park called The World of Darkness.
The characters in Carl Hiaasen's latest adventure caper, RAZOR GIRL, also make some inadvisable choices, all of them funny, many of them foul-mouthed. We meet Mafioso, reality television stars, Florida businessmen, elected officials, and exotic animals like Gambian pouched rats in a plot too complex to summarize. As with all of Hiaasen's Florida novels, it offers a wacky good time.  It also offers John Rubinstein reading such lines as, "On the first day of February, sunny, but as cold as a frog's balls" with enthusiastic flair and laudable clarity.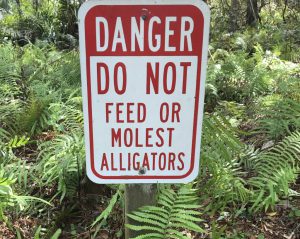 In addition writing zany novels, Hiaasen is a longtime columnist for the Miami Herald. Many of his most witty and excoriating columns are collected in DANCE OF THE REPTILES, given an Earphones Award performance by Arte Johnson.  The actor once famous for Rowan and Martin's "Laugh In" perfectly channels Hiaasen as the author rages and laughs about Florida's "Rampaging Tourists, Marauding Pythons, Larcenous Legislators, Crazed Celebrities, and Tar-Balled Beaches." It's an addicting, eye-opening listen. (For the record, although a tourist, I did not rampage.)
Nineteenth-century Florida's outlaw sugar baron, E.J. Watson, managed to be so larcenous, marauding, crazed, and rampaging that he was gunned down in self-defense by the residents of Chokoloskee, Florida. But not before living a wild life in wild south Florida that Peter Matthiessen fictionalized in SHADOW COUNTRY, which won the National Book Award in 2008. Anthony Heald's reading is masterful with its hint of the south and a storyteller's captivating rhythm. Pour yourself a glass of something and settle in for this tall tale.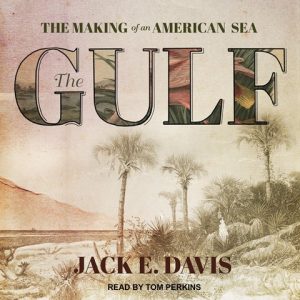 I end with another eye-opening tale, which won the 2017 Kirkus Prize for Nonfiction and the 2018 Pulitzer Prize for History. Jack E. Davis's THE GULF, subtitled The Making of an American Sea, is an absorbing examination of the relationship between humans and nature from the Florida Keys to the Texas Rio Grand. Narrator Tom Perkins's pleasant voice, excellent pacing, and interested tone perfectly support the deeply-researched and well-told history of all that is amazing and much that is endangered on the beautiful body of water that gave me such pleasure last month.