Did you know that while traditional publishing markets are static or declining, the audiobook industry has been seeing double-digit growth for each of the last seven years? So reported AudioFile publisher Michele Cobb at the session titled The World of Audiobooks at this year's Thrillerfest. Besides Michele, AudioFile was well represented on the panel by Founder and Editor Robin Whitten. Audible's Stacy Creamer, award-winning narrators Richard Ferrone and Thérèse Plummer, and author David Hewson joined them. Moderated by author Jon Land, the panel addressed the growth and changes in the industry, the process and challenges of narrating, and the future of the audiobook industry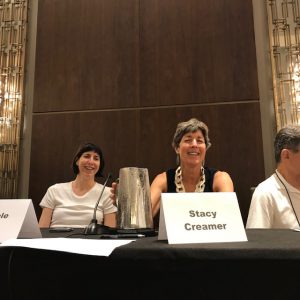 Panelists agreed that the significant growth can be attributed to the confluence of technology (which has dramatically changed accessibility and price) and a culture that encourages multitasking (although the data is showing that many listeners are enjoying just listening). Robin Whitten pointed out that in the past, publishers would only bring the top of their lists to audio, and now they are publishing audio versions of a much deeper range of their books. For us suspense/thriller audiophiles, it's no surprise this genre constitutes the number-one sellers in audiobooks.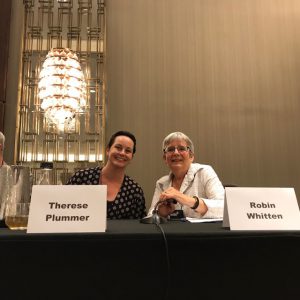 As this conference is one of the few gatherings where authors and narrators come together, I wanted to explore the relationship of authors with their audiobooks and with the narrators of those books. In several of the sessions, I was taken with the discussion of the importance of storytelling—this is the author's first challenge, and then it becomes the narrator's. Narrators Ferrone and Plummer agreed that narrating an audiobook is a challenging responsibility and a privilege. It's also hard work. In response to a question from the audience about how to manage an author's interest in narrating his own book, a panelist suggested that the publisher should tell the author to take his book into a bathroom and read it out loud for 4 hours, pointing out what is obvious to professional narrators—it is not an easy job!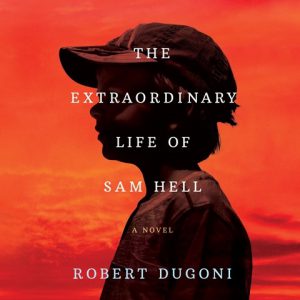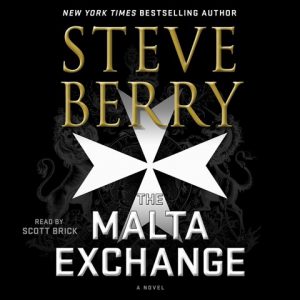 In another session on thriller series, I asked about the extent to which authors get involved in their audiobook productions. Author Robert Dugoni said that he narrated his own book THE EXTRAORDINARY LIFE OF SAM HELL (and he won an Earphones Award for it!). But he said that for his next book where there was a Russian character, he turned to a professional narrator who could nail the required accents.
Author Steve Berry said that in his audiobook, THE MALTA EXCHANGE, he offers a "writer's cut," providing commentary at the end of certain chapters on the location, the action, and the historic facts. Listeners get two versions, one with and one without his commentary. The former has proven to be very popular. Having listened to this audiobook with his commentary, I think connecting directly to the author through his words and his voice truly enhances the listening experience.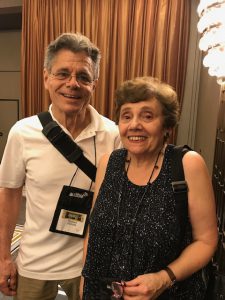 My impression from hearing from authors and narrators is that there is a wide range of relationships between authors and their audiobooks—from hands-off, including choice of narrator, to being totally engaged, from the selection of narrator to the discussion on how to present characters to self- narrating.
My takeaway from this year's Thrillerfest is that audiobooks are "in." What's next?
Could it be the app being promoted at Thrillerfest where stories are told through text chat? (And yes, they have an audio option.)