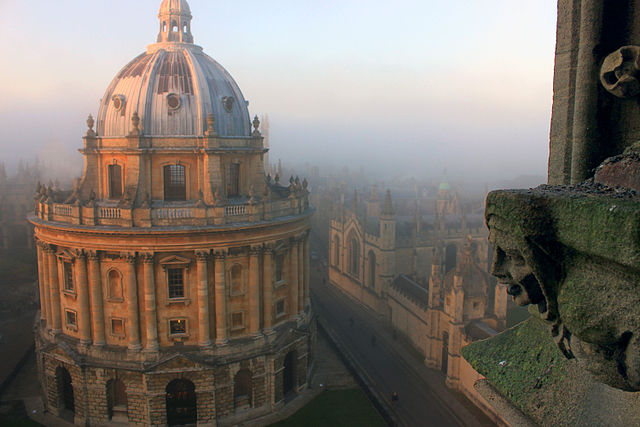 The air has that delicious crisp feel that speaks of September, and the shorter days and back-to-school vibe give me an excuse to focus on Young Adult mysteries. The listening opportunities are so rich with the genre offering many series to binge on.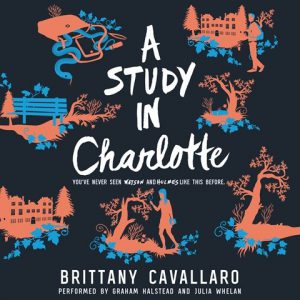 My first discovery is the Charlotte Holmes/James Watson series by Brittany Cavallaro. Yes, it's another take on Sherlock Holmes. In this twist we have Charlotte Holmes and James Watson, whose great-great-great-grandfathers are actually the famous duo. The audiobooks are narrated by another dynamic duo—Graham Halstead and Julia Whalen. The series begins with A STUDY IN CHARLOTTE, in which Charlotte and James are students in a Connecticut boarding school. Charlotte, quite British, has all of the peculiarities of a Holmes—brilliant, acutely observant, and socially awkward. James, raised in the U.S., is a super nice kid, also smart and working hard to keep up with Charlotte. The fourth book in the series, A QUESTION OF HOLMES, came out earlier this year and draws us into their lives as they start a pre-college program at Oxford. I can't resist Oxford as a setting for mysteries, and neither can many others, as is proven by the Inspector Morse franchise. Narrators Halstead and Whalen are masterful with the various British, U.S., and other accents and the quick-witted dialogue punctuated with literary references.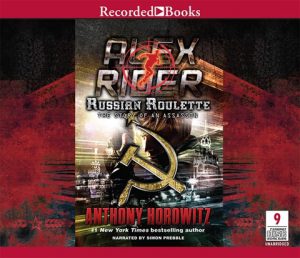 For something completely different—more in the spy thriller mode—you might enjoy Anthony Horowitz's Alex Rider series. Horowitz is an amazingly creative, prolific, and varied writer. For more on him, read Aurelia C. Scott's recent blog post of her interview with Horowitz. Perhaps because he is an award-winning screen writer (fans of Midsomer Murders and Foyle's War know his work well), his writing translates so well into audiobooks. The Alex Rider series is read (all but the first book) by award-winning narrator Simon Prebble. Check out RUSSIAN ROULETTE, which serves as a prequel to the series, providing the back story to the evolution of Alex Rider as a teenage MI6 agent.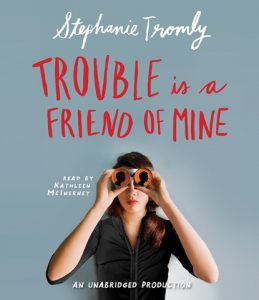 For a witty amateur sleuth, you might turn to Stephanie Tromly's "Trouble" trilogy, beginning with TROUBLE IS A FRIEND OF MINE. The series features feisty, smart Zoe, who is drawn into the mystery of her schoolmate Digby's world (and his possible romantic intentions). All of the books in the trilogy are read by Earphones Award winner Kathleen McInerney. You might recognize her as the narrator of the Linda Castillo Amish mystery series, among a long list of audiobooks for children and adults. She captures the youthful Zoe and her high school buddies with a very contemporary pace and tone. The book is a window into the world of teenagers in the digital age, which seems to hold many of the same anxieties, fears, and overwhelm of yesteryear—but on steroids.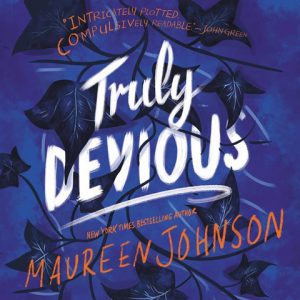 Finally, I offer up the "Truly Devious" series by Maureen Johnson. The first in the series, TRULY DEVIOUS, and the second, THE VANISHING STAIR, are read by narrator Kate Rudd. The books feature an amateur teenage sleuth who works to solve the historic mysteries of her school, the Ellingham Academy, and gets swept into current-day crime solving as well. And if you tire of mysteries and are prepared to cry your eyes out, you might pick up Kate Rudd's reading of THE FAULT IN OUR STARS.
Photo of Oxford University by Tejavn Pettinger