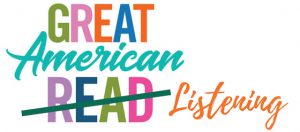 PBS has just concluded a national survey and an eight-part series that explored and celebrated the power of reading, told through the prism of America's 100 best-loved novels: THE GREAT AMERICAN READ. The final results just released put TO KILL A MOCKINGBIRD definitively on top, with four finalists: the Outlander series, the Harry Potter series, PRIDE AND PREJUDICE, and the Lord of the Rings series. What strikes me with these favorites is that many of them offer spectacular listening.
There is just one recording of MOCKINGBIRD available—a respectful straight-up narration by Sissy Spacek as Scout telling the story. However, for the #2 title, PRIDE AND PREJUDICE, we've reviewed five unabridged versions, and at least eight are available on Audible. Josephine Bailey's P & P got an Earphones Award from us, and there's also Rosamunde Pike's version. (Pike is currently in the news for her role as journalist Marie Colvin in A Private War, and she had the role of Jane Bennet in the 2005 Pride and Prejudice film.) Plenty of listening choices there.
The three fantasy series that took places 2, 3, and 5  are sure bets for listeners and are among the most repeatedly celebrated audiobook performances. Golden Voice Jim Dale tops my list for his unmatched performances of the seven Harry Potter audiobooks, with his mastery of more than 200 character voices and his impeccable timing. Whether you start at the beginning with HARRY POTTER AND THE SORCERER'S STONE or treat yourself to listening to one that you first read in print, every one of the volumes is a delight for families and listeners of all ages.
The fan base for Diana Gabaldon's Outlander series continues to grow as Starz releases its 4th season of the TV series this weekend, and with more seasons promised. Narrator Davina Porter owns the Outlander series in audiobooks. Davina delivers all the zeal and fine detail of the time travel fantasy with brilliant Scots accents and a storyteller's skill at keeping all the storylines sorted. The most recent entry, WRITTEN IN MY OWN HEARTS BLOOD, or A BREATH OF SNOW AND ASHES, or book 1, OUTLANDER, will not disappoint.
The single-voice recordings by Rob Inglis of J.R.R. Tolkien's Lord of the Rings trilogy were done originally in 2001—just at the time that Peter Jackson's The Fellowship of the Ring film was opening the door for many new Tolkien fans. Inglis, a transplanted Australian actor, brought a one-man show adaption of The Lord of the Rings to the stage in 1981. I wonder if someone from the publisher Recorded Books ever saw that performance? His wondrous, and very British, performances of the three Rings titles, as well as THE HOBBIT, are happily still available for audiobook fans.
If you want to settle down for a few hundred hours of fantastic listening, work your way through the the top five of Great American Read novels!