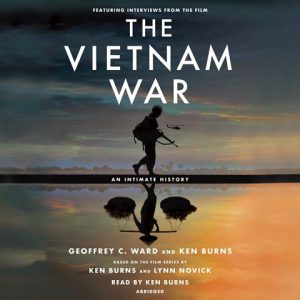 Soldiers lunged muddy, exhausted, and wide-eyed across our kitchen table most evenings when I was a teenager. It was the Vietnam War, in all its fear and confusion, playing in black-and-white on the nightly news. I wish we'd had Ken Burns and Geoffrey C. Ward's audiobook, THE VIETNAM WAR: AN INTIMATE HISTORY, to support our viewing, as it's every bit as informative and wide-ranging as their recent PBS documentary. Though the audiobook is abridged, Burns won an Earphones Award for his clear and serious narration, which helped me concentrate on the hard story without turning away.
You see, in 1969, while waiting for my ride outside the San Francisco airport, I did look away when a soldier dropped a bulging duffle at his feet, and said, "I'm just back from Vietnam." Such were my muddled emotions that to my eternal regret, I couldn't even manage a "Welcome home." Between them, Steve Sheinkin's MOST DANGEROUS: DANIEL ELLSBERG AND THE SECRET HISTORY OF THE VIETNAM WAR, read by Ray Porter, and Howard Means's 67 SHOTS: KENT STATE AND THE END OF AMERICAN INNOCENCE, read by Alan Sklar, help explain the mess we were in during those tumultuous times. They don't absolve my rudeness to that soldier, but they put my reaction in context.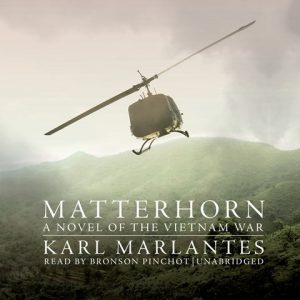 So, what was his war like? As often happens, I turn to fiction for its imaginative depth. Tim O'Brien's extraordinary work, THE THINGS THEY CARRIED, gripped me and wouldn't let go. Based on the battle experiences of O'Brien and other soldiers, the book delves deep into the individual wartime experience. Excellent performances are available by Bryan Cranston of television's Breaking Bad fame and Tom Stechschulte, who won an Earphones Award for his reading. Karl Marlantes's MATTERHORN is another riveting novel about the Vietnam War written by a veteran. Bronson Pinchot's ace performance puts a listener in the terrifying middle of Bravo Company's fight up a key mountainside.
My husband, veteran of an earlier war, prefers nonfiction. He has shared Johnny Heller's performance of WE WERE SOLDIERS ONCE . . . AND YOUNG by Harold G. Moore and Joseph L. Galloway with many, lauding the hard-hitting and realistic description of America's first engagement with the Viet Cong. Another terrific nonfiction view of the war is Michael Herr's kaleidoscopic DISPATCHES, based on his on-the-ground reporting. The film Apocalypse Now is one of many works inspired by Herr's book. Instead of revisiting the film this weekend, listen to Ray Porter's excellent narration of the original reportage.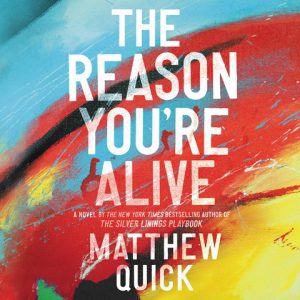 That young soldier would be in his late sixties or early seventies now. I hope the intervening years have been kinder to him than I was. But life being what it is, they may not have been easy. When I listen to R.C. Bray's terrific performance of Matthew Quick's new novel, THE REASON YOU'RE ALIVE, I'll be paying close attention. It's about a Vietnam veteran looking back on his life. Listening will be my version of a do-over.