Heath Miller narrated the zany sci-fi novel SPACE OPERA, one of our 2018 Best Audiobooks in Science Fiction & Fantasy. How zany? Sentient races compete for glory in a universe-wide music contest, and it's both scathing social commentary and a hilarious send-up of music competitions (it's been described as The Hitchhiker's Guide to the Galaxy meets the Eurovision song contest). Heath takes us inside this intergalactic spectacle—and the many, many accents it required of him—on a special 2018 Best Audiobooks episode of our podcast, Behind the Mic.
"The tone was very familiar, so it mostly rolled off the tongue—I grew up with that kind of British humor."—Narrator Heath Miller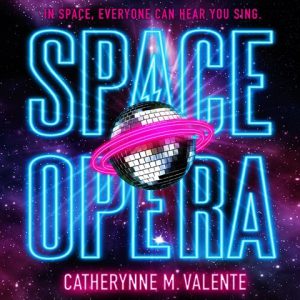 SPACE OPERA
By Catherynne M. Valente, read by Heath Miller
HighBridge Audio
AudioFile Earphones Award
In order to prove to the rest of the galaxy that they are sentient and avoid complete annihilation, humanity must compete in an interstellar grand prix of song—if the band chosen to represent them can make it to the competition. Heath Miller shines as the sarcastic and sardonic narrator who guides listeners through the byzantine galactic history that led to this state of affairs.
Browse the full list of 2018 Best Audiobooks and find your next great listen!
Photo courtesy of the narrator.