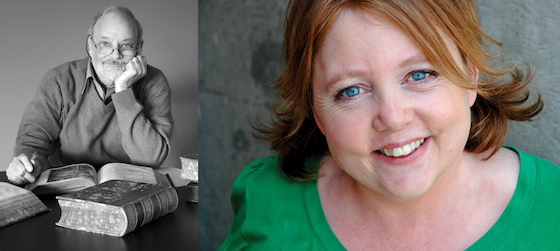 Flavia de Luce always makes me smile. Alan Bradley's 11-year-old sleuth has just solved her tenth mystery, THE GOLDEN TRESSES OF THE DEAD. Flavia lives in the village of  Bishop's Lacy, in 1950s England. She's passionate about poisons—although she's almost as interested in old churchyards and the fascinating chemistry of decay. 
Jayne Entwistle inhabits the irrepressible and intrepid Flavia in all ten of the audiobooks. For listeners she IS Flavia, with all of her bright-voiced curiosity and charming cleverness. Jayne has garnered lovely reviews and Earphones Awards and is a brilliant example of how a narrator can fully inhabit not just a single character but an entire series. This great author and narrator duo had never actually spoken until AudioFile brought them together on the Behind the Mic podcast. 
"I didn't know that I wanted to be an audiobook narrator . . . I had no idea that would become a major part of who I am and what I do. And it was Flavia who led me there."—Narrator Jayne Entwistle
We love bringing authors and narrators together on our podcast—and our conversation connected Alan and Jayne for the first time halfway around the world. As a huge fan of Flavia, hearing the two "creators" of the audiobooks was a special treat.
At the time of Flavia's adventure in THRICE THE BRINDED CAT HATH MEW'D,  we asked Jayne to record a video about Flavia, her escapades, and her passions for poisons and graveyards.
Explore the entire series of Flavia de Luce audiobooks.