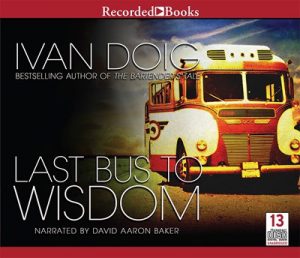 My husband Bob and I recently drove from Maine to California and back just to listen to audiobooks. Okay, we also wanted to escape winter in the 23rd state. However we played lots of audiobooks along the way, choosing ones set more or less where we were going. Call them road-trip audiobooks.  That's how we took the LAST BUS TO WISDOM, Ivan Doig's heartfelt, comic paean to lighting out. Across the Great Plains we went with 12-year-old Donal, 70-something Herman-the-German, and the amazing narrator, Aaron David Baker. They rode the Dog Bus — think now, what bus line's emblem is a hound? — while we drove a Subaru. But with a master author and narrator to guide us, we found wide-open spaces and quirky, worthwhile Americans. We survived robbery (Donal and Herman) and a blizzard on Donner Pass (Bob and me). And we replaced several meals with chocolate bars.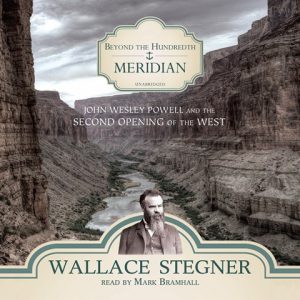 It may have been the Donner Pass blizzard or the sign reading "79 miles to the next services" that made us discuss the fortitude of early European settlers and the Native Americans they encountered. It also made us wonder how farming the "Great American Desert" had ever seemed like a good idea. For enlightenment, we turned to Wallace Stegner's BEYOND THE HUNDREDTH MERIDIAN: John Wesley Powell and the Second Opening of the West. Written with his novelist's storytelling skill and narrated by the terrific Mark Bramhall, Stegner's nonfiction book is a gripping account of Powell's trip down the Colorado River and his subsequent struggle to accommodate the West's limited carrying capacity with settlers' hunger and the rights of Native Americans already there.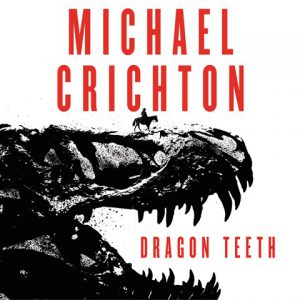 The Great Plains don't have much water, but they're littered with so many dinosaur bones that one wants to paraphrase Flanders and Swann's Hippopotamus Song — Bones, bones, glorious bones, nothing quite like them for heating the blood. Michael Crichton's posthumously-published adventure, DRAGON TEETH, with its riveting narration by Scott Brick, centers on a murderous real-life competition between the 19th century's leading paleontologists. As they battled unforgiving landscape, lawless gold miners, and each other, we drove entranced, straight to Dinosaur National Monument.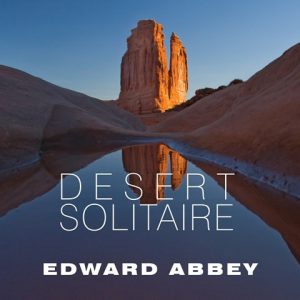 Out of the way in northern Utah and Colorado, the monument was worth every mile (and made me long to wear dino-printed pajamas as unselfconsciously as a 5-year-old). Gazing at the skeletons of Stegosaurus and Allosaurus exposed in rock that had once been a swamp, I was unexpectedly grateful for the earth's antiquity. This beautiful little globe harbored the dinosaurs for 175 million years; it may yet survive our treatment of it. That thought took us south with Edward Abbey to the towering stones and secret springs of southern Utah. Abbey's memoir about working as a park ranger, DESERT SOLITAIRE, is a hymn to the Southwest's mystery and invincibility. Michael Kramer narrates beautifully, as if channeling Abbey himself.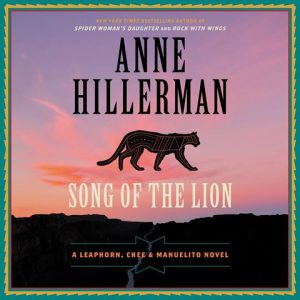 Southern Utah is close to Shiprock, New Mexico, aka Tony Hillerman country. On previous visits, Bob and I have even sat in front of Shiprock's Navajo Nation Police Department hoping to spot Jim Chee and Joe Leaphorn, which is as reasonable as looking for Sherlock Holmes at 221B Baker Street. But we still have hope, because Hillerman's daughter Anne has continued her father's beloved mystery series set in New Mexico. They're read by Christina Delaine with perfect pitch for Navajo and Southwestern voices. Turning the wheel toward Maine, we listened to SONG OF THE LION with extra pleasure, for her newest, CAVE OF BONES, is due out next month.