My daughter is one to ask a million questions. She is three, and precocious, and we find ourselves having deep discussions about how the human body works, Pete Seeger's life, why Fritz breaks Clara's Nutcracker, and more recently, why we help others who are here as refugees and asylum seekers.
Here in Portland, Maine, we have a growing community of immigrants and refugees who have come from countries where their lives are at risk, their homes are destroyed, and they and their children have experienced things no person should. How do I explain that to my three-year-old without making her frightened?
The answer, in our case, came in part through reading. There are many beautiful and moving picture and chapter books for learning about the experiences of immigrants and refugees with content that is approachable for children and helps facilitate discussions at their level. These titles are excellent, as well, for helping children who have come to America as immigrants and refugees see a mirror of their own lived experiences.
Through a wonderful initiative developed in Maine called I'm Your Neighbor, we found a beautiful collection of books to give children windows into the lives of others and to help them see their own experiences reflected back to them. Dive in and see what amazing resources you can find!
We've selected six audiobooks to help your children, or the children in your life, understand and reflect on what it means to be new to a country and to leave everything you knew behind. There are audiobooks appropriate for kids as young as three to ages ten and older.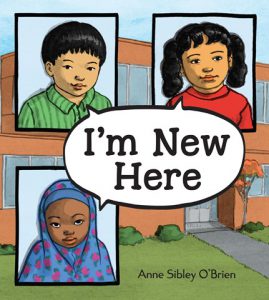 I'M NEW HERE
by Anne Sibley O'Brien, read by Frankie Corzo, Ariana Delawari, Ramon De Ocampo, Ruth Livier, Anne Sibley O'Brien
Live Oak Media, Ages 4-6
Young, vibrant narrators voice heartfelt concerns as students from Guatemala, Korea, and Somalia are each welcomed into new classrooms in a new country. Listen to a sound clip and read AudioFile's full review here.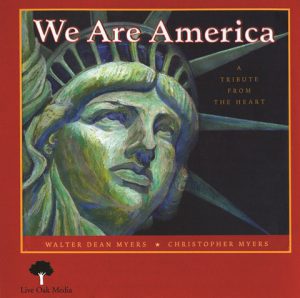 WE ARE AMERICA: A Tribute from the Heart
by Walter Dean Myers, read by Macleod Andrews, Olivia DuFord, Dion Graham, Lizann Mitchell, Christopher Myers, Walter Dean Myers, Johanna Parker, Adriana Sananes, Kaipo Schwab, et al.
Live Oak Media, Ages 6+
A chorus of voices welcomes listeners to this meditation on what it is to be American. Poems and quotes are delivered by a talented cast of narrators that reflect the diversity of the United States. Listen to a sound clip and read AudioFile's full review here.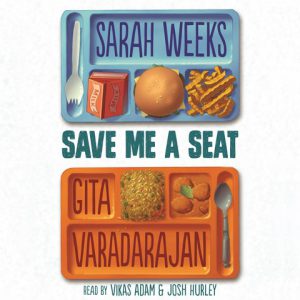 SAVE ME A SEAT
by Sarah Weeks, Gita Varadarajan, read by Josh Hurley, Vikas Adam
Scholastic Audiobooks, Ages 8+
Using two narrators is the perfect way to deliver this story, told as the alternating first-person recollections of two fifth-grade boys. Vikas Adam is the voice of Ravi, a recent immigrant from India, and Josh Hurley is the voice of Joe, a boy with auditory processing disorder (APD). Listen to a sound clip and read AudioFile's full review here.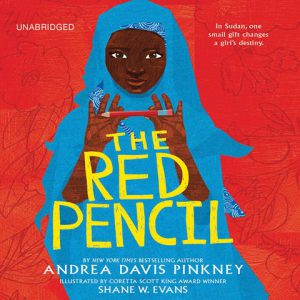 THE RED PENCIL
by Andrea Davis Pinkney, read by Andrea Davis Pinkney
Hachette Audio, Ages 8+
Pinkney performs her novel in free verse, which features Amira, a girl listeners meet when she's living a happy life with her family in the South Darfur region of Sudan. Everything changes when her family is forced to flee. Listen to a sound clip and read AudioFile's full review here.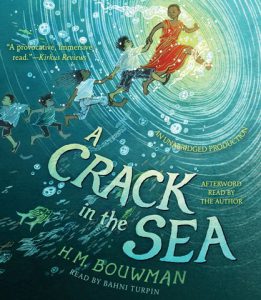 A CRACK IN THE SEA
by H.M. Bouwman, read by Bahni Turpin, H.M. Bouwman [Afterword]
Listening Library, Ages 10+
Bouwman weaves a fascinating story of brothers and sisters, history and fantasy in this incredible tale. Narrator Bahni Turpin is extraordinary in bringing this fantasy world and its characters to life. Listen to a sound clip and read AudioFile's full review here.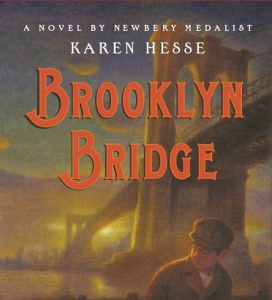 BROOKLYN BRIDGE
by Karen Hesse, read by Fred Berman
Macmillan Audio, Ages 10+
Newbery Medalist Karen Hesse's deeply moving story concerns Russian immigrants in 1903 Brooklyn. Fred Berman beautifully captures 14-year-old Joseph's electric excitement to participate in the life of the city around him. Listen to a sound clip and read AudioFile's full review here.
Have you listened to a family audiobook on this topic? Please share about it below!
Don't miss our interviews with Ramon de Ocampo, one of the narrators of I'M NEW HERE, and a two-fer interview with Josh Hurley and Vikas Adam narrators of SAVE ME A SEAT— both part of our ongoing Behind the Mic series!
Find more great audiobooks here: Audiobooks for Kids & Teens. AudioFile's dynamic lists come complete with age ranges.