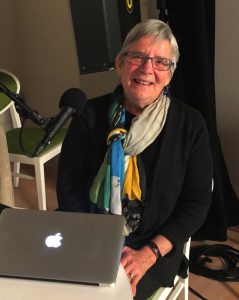 One of the criteria we think about when picking the Best Audiobooks of the Year is to choose titles that we can continue to recommend as great listening year after year. I can look back to our Best of 2013 and see the first Cormoran Strike title by Robert Galbraith, THE CUCKOO'S CALLING—the fourth, LETHAL WHITE, is on this year's list. Graham Greene's THE END OF THE AFFAIR, read by Colin Firth, won nearly every audiobook award, and can still be recommended without reservation. Billy Crystal's STILL FOOLIN' 'EM is a terrific author memoir, old or new. We hope the 50 titles in this year's list enjoy the same longevity!
For the last few weeks we've had some (terrific) "help from our friends." Our Best of the Year partners get a tremendous thank you for helping to spread the audiobook word! Thank you to Audio Publishers Association; Audiobook Speakeasy; Beth Fish Reads; Books & Sensibility; Book Trib; Deyan Audio Weekly; File 770; HarperAudio Presents Podcast; Hall Ways; Happy Ever After; Just the Right Book Podcast; Library Journal/Book Pulse; Libro.FM; Maine Calling/Maine Public; Every Library; No Shelf Required; Novel Suspects; Professional Book Nerds Podcast; Romance Writers of America; Smart Bitches, Trashy Books; Shelf Addiction; Shelf Awareness. And, of course all the narrators, publishers, and authors who shared the celebration of these outstanding audiobooks!
To wrap up the podcasts, here are this week's episodes.
Monday & Tuesday, Romance rules!
Wednesday—Memoirs, with a blockbuster list!

Thursday & Friday take us to the fantastic realms of Science Fiction, Horror & Fantasy.


Do you agree with me about the longevity of the BEST of the year titles? Have a look these archives of the Best Audiobooks . . . from 2013 to 2018:
2013 Best Audiobooks; 2014 Best Audiobooks; 2015 Best Audiobooks; 2016 Best Audiobooks; 2017 Best Audiobooks; 2018 Best Audiobooks.