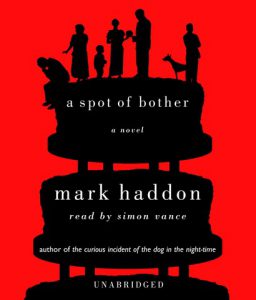 The summer before my mother died, I repainted our front porch. Neither she nor I wanted me in constant attendance. So, in between visits to her bedside, I scraped, painted, and laughed hysterically to Mark Haddon's A SPOT OF BOTHER, given an Earphones Award-winning performance by Simon Vance. This startled passersby, but given the chance to blend my weeping with tears of laughter, I didn't care about the spectacle I was making. The audiobook is nominally about an estranged English family arranging for a wedding. For Haddon, whose THE CURIOUS INCIDENT OF THE DOG IN THE NIGHT-TIME found humor and profundity in a character's coping with Asperger's Syndrome, a family wedding (like a family death) gives rise to just about every behavior, some of it bizarre, much of it transcendent. And in my hour of need, it was transformative.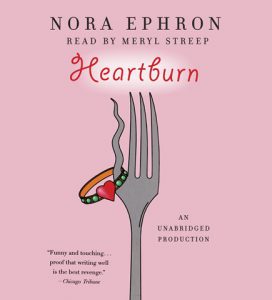 Sometimes what you need is an audiobook that acknowledges that s*** happens, often when you're flying highest. HEARTBURN by Nora Ephron, performed with genius by Meryl Streep, is that audiobook. Loosely based on the pregnant Ephron's discovery that her husband Carl Bernstein (of ALL THE PRESIDENT'S MEN fame) was leaving her for the archetypal other woman, this novel is revenge at its most comedic. Yes, it was made into a terrific film starring Meryl Streep, but trust me, the book produces more laughs of the gasping-for-breath variety. I heard it while mourning the rejection of a laboriously crafted book proposal. You, too, may listen when sad; or when you're happy. Just listen and be uplifted.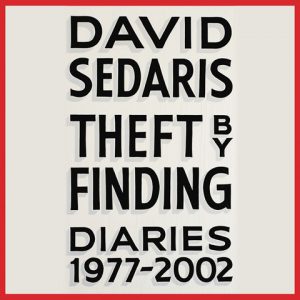 I've been hooked on David Sedaris ever since the fateful 1992 NPR broadcast of his Santaland Diaries, that gloriously hostile send-up of his brief career as a holiday elf. I replay it every year around holiday time – "Oh little elf, little elf!" – which means that in addition to accompanying joy, it was the background music to the December when my husband battled Epstein-Barr Disease, and four first-Christmases-after-a-death. Through everything, Sedaris's many memoirs have made me laugh, and in laughing, helped me survive the tough times and cherish the good. That's why I'm looking forward to pressing Play on Sedaris's newest audiobook, THEFT BY FINDING, a collection of his edited diaries. By the way, Sedaris, who always reads his own work, won an Earphones Award for his performance.
What audiobooks make you laugh? Share your favorite laugh-out-loud funny audiobooks in the comments!