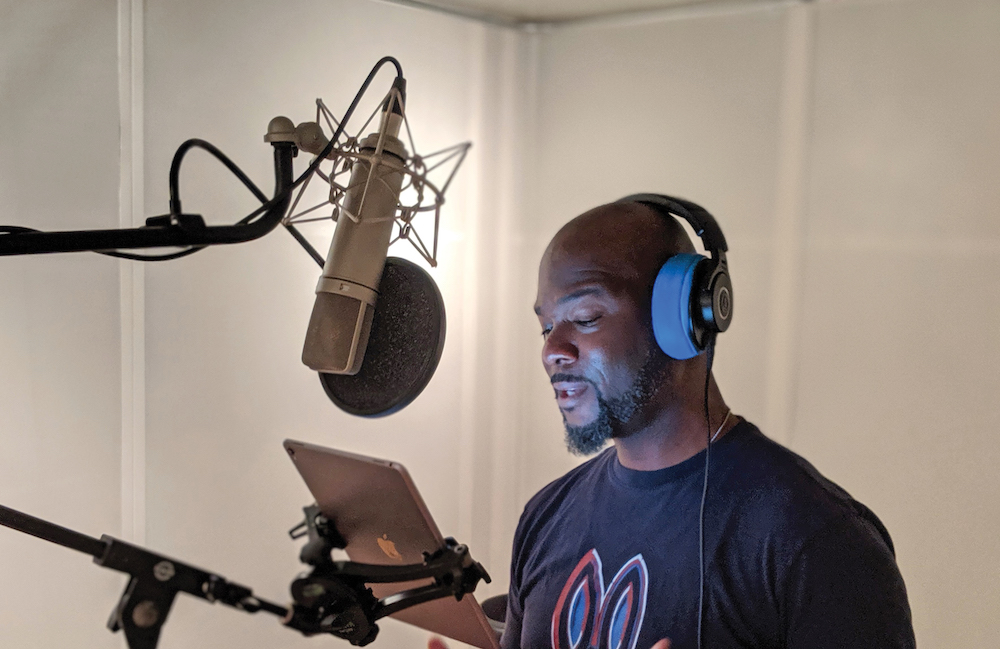 JD Jackson is one of AudioFile's 2020 Golden Voices, and he is a skilled and versatile narrator with a long list of impressive credits to his name. Listen in to JD's conversation with Jo Reed about his love of storytelling, getting his start in acting and narrating, the joys of falling into the rhythm of reading well-written prose, and the emotional impact of narrating sermons from Dr. Martin Luther King, Jr.
JD narrated two of this year's Pulitzer Prize-winning audiobooks, Jericho Brown's poetry collection THE TRADITION and Colson Whitehead's historical novel THE NICKEL BOYS. His narration of THE NICKEL BOYS also earned JD a 2020 Audie Award nomination for Best Male Narrator. Hear more in the bonus episode of our podcast below.
"Storytelling is about something that needs to be shared, and to be put out into the atmosphere." —Narrator JD Jackson
From the interview:
Jo Reed: I wonder, over the years, what you've learned as an audiobook narrator, in terms of the craft of narrating.
JD Jackson: I think, you know, there's a lot of technical things I've learned, but I think the most important thing I've learned is to appreciate this gift that I've been given. I remember when I first started out in acting, I wanted to be a filmmaker, but that didn't work out, so acting opened doors for me, so I said, let's go through this door. And then, got married right out of college, and started having kids like two years later, and it was like, oh no, what's happening right now? And then, audiobooks just fell out of the sky as this amazing platform that you can still tell stories. And at first, I didn't appreciate it, because I was so caught up in, oh, I had these dreams, and I wanted to be this, and I wanted to be that. And then, I have a baby, and then another one on the way, and then another one. And everything got cloudy. And then we had to move, and it got crazy. And you kind of get swept up in the world that's going on around you. And you have to sometimes take a step back and say, man. I'm truly blessed to be able to do what I do for a living, you know? To tell stories, to be a vessel for authors, to learn every day, something new.
Jo Reed: Well, one thing that happened is, you are being named a Golden Voice by AudioFile Magazine. So many congratulations for that.
JD Jackson: Thank you, thank you so much. I've been doing this—you know, I thought about it, I've been doing this almost 20 years, you know? And I'm just getting to that place in my life where I'm starting to appreciate the things that I have, and where I am, and where I'm at, and who I'm with, and what's going on around me. Being present. So this comes at an amazing time.
Jo Reed: Well, congratulations, JD, it's really so well-deserved, and thank you for the many hours of really great, great listening.
—
To discover more audiobooks narrated by JD Jackson, browse his audiography. Find all of AudioFile's Golden Voice narrators on our website, and stay tuned for more Golden Voice interviews on our podcast this month.