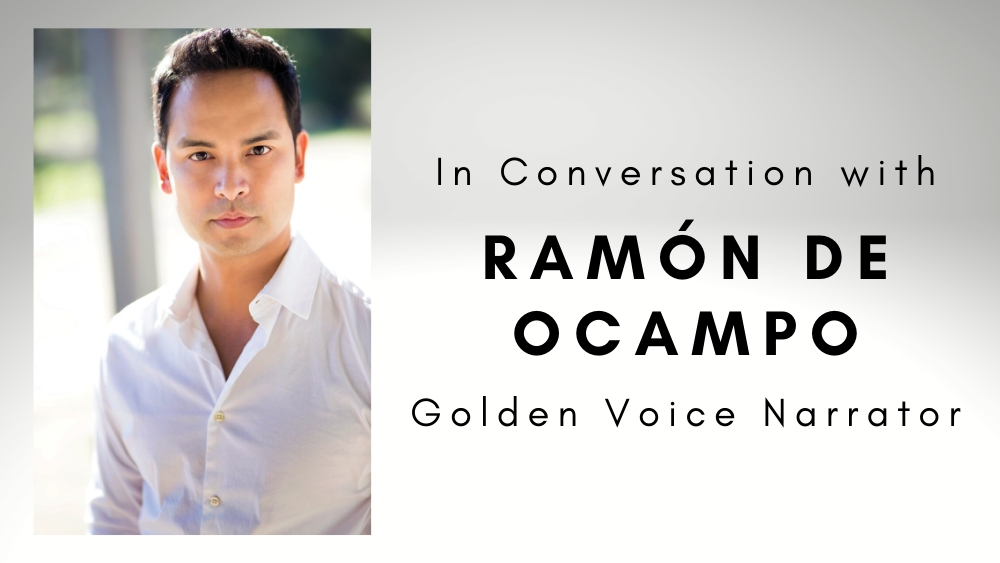 Ramón de Ocampo is one of AudioFile's 2020 Golden Voices. He skillfully narrates a range of titles, including bestselling series for children, powerful works of historical fiction, and meaningful coming-of-age stories. Ramón's recent accolades include a 2019 Audie Award nomination for Casey McQuiston's romance RED WHITE & ROYAL BLUE and numerous Earphones Awards and Best of the Year audiobooks. 
Listen to Ramón's conversation with host Jo Reed about getting his start in the world of audiobooks, his emotional connections to the audiobooks he narrates, and the acting skills he uses to deconstruct the text and help listeners engage with the story.
"If you do it right, the joy that you're getting from it, you should be trying to record." —Narrator Ramón de Ocampo
From the conversation:
Jo Reed: You had so many different voices to navigate in RED, WHITE & ROYAL BLUE. How did you get your arms around that one?
Ramón de Ocampo: It helps that my wife is British.
JR: Oh, golly, is she?
RDO: Yes.
JR: Well, well.
RDO: So, my wife is from Liverpool. So I've spent a lot of time in England. And, I'm an anglophile, and the first thing that happens in classical training is you learn a bunch of different British dialects. But you don't know the breadth of it until you're living with somebody who is British, and only speaks in a British dialect. There's something lovely, especially about Harry, where I kept thinking that she's written somebody there who is a prince, but not necessarily in the prince way that we view princes, or how princes speak in the world. And I kept thinking, he's like a very young, like even pre-movie time, Hugh Grant. There's something about him that's a little bit shy, and he's not exactly sure, where he is. Which is different from Alex, because Alex has this energy to him.
JR: And confidence.
RDO: Yeah. And you have to see both. And that's another thing—you could have two confident characters in a TV show, and you know that they're different because they look different. But in an audiobook, if it's just one person who's speaking, you kind of have to be like, what is the connection between these two characters? And part of it is that one of them has this energy that's confident and knows himself and is making his decisions, and the other one who is almost more politic about it. Really, he has to figure out, what does this mean inside of his life as a royal? What is it that he is dealing with that is still honest for him?
JR: Well, it's such a beautiful same-sex romance. It really is. What I admire about that book is it is both improbable and yet it has such accuracy.
RDO: You know, I was on "The West Wing," and I spent a year on that show, and to this day, people think that the Obama administration happened before "The West Wing." But we were years before. And I feel like this is the same sort of situation, where what this conversation is is just an inevitability.
JR: Did you have fun narrating it?
RDO: Oh my gosh, it was the best time. It was great to be asked to do it, and I don't tend to get asked to do romance books, although this comes from a young perspective, so that would make sense. And this comes from a political perspective, so that makes sense for me as well. But as soon as I read it, I was like, oh, Macmillan knows me. This is right up my alley. That particular kind of rhythm, that particular kind of humor and intelligence and even romantic quality really sparked with me. It was really fun to be in the booth.
—
Discover more audiobooks narrated by Ramón on his narrator page. 
Photo by Elsie Rose Photography.