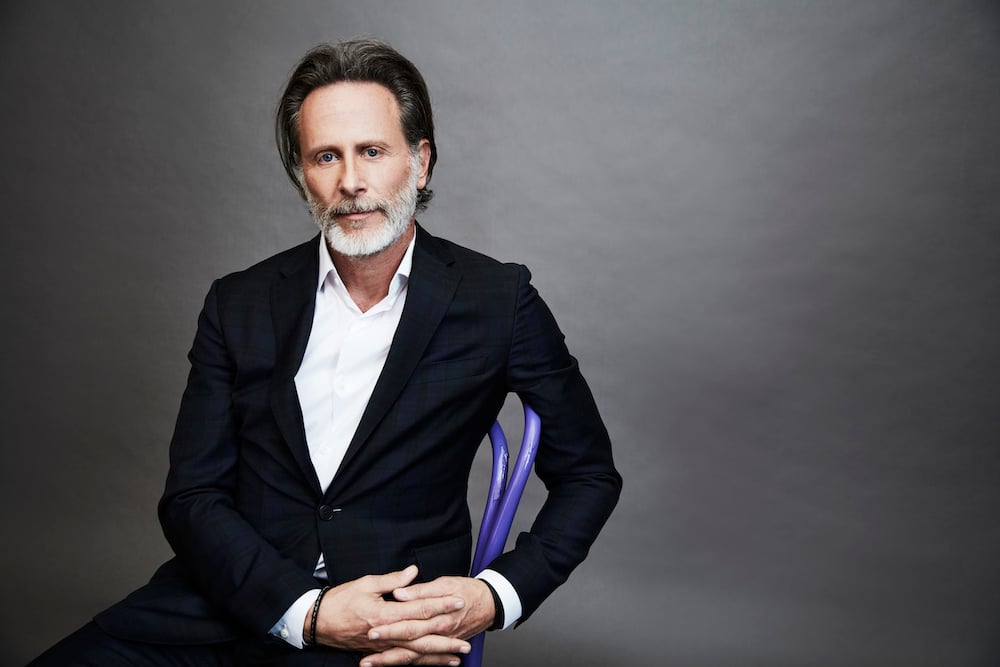 Jo Reed speaks with actor and narrator Steven Weber in our newest bonus episode of AudioFile's podcast, "Behind the Mic." Steven is known for his roles in "How to Get Away with Murder," "Wings," and "Indebted." And he has narrated audiobooks by Harlan Coben and Stephen King and starred in audio dramas from L.A. Theatre Works. Listen to their full conversation below.
From the episode:
Josephine Reed: You have done so much television, and you've done films and you've done theater. How did you end up in the audiobook business?
Steven Weber: I'd always liked the idea of recording, and I always have been a fan of classic radio. And even growing up I had record albums of all the old shows from "Jack Benny" and "Gangbusters" and all that stuff and really, really loved the whole aesthetic of it and the idea of holding the cupped hand to your ear while standing next to a big microphone and all that stuff.
I can't remember the first book I did, but I just loved the whole idea. I love what I'm doing now, sitting in a cool, quiet studio speaking into a microphone. I've found, doing audiobooks, the more I do them, the more I understand what needs to be done. And of course I've always been a fan of audiobooks myself.
JR: You've narrated a bunch of Harlan Coben's books.
SW: My favorite.
JR: Have you talked to him?
 SW: We actually became friends. I think I actually read one of his books on my own, and in the back of the book there was an email address where one could contact him. So I sent him a fan letter, and he responded, to my shock. And I said, "My God, I'd love to be able to read one of your books." And so one thing led to another, and I started reading his audiobooks. And we have spoken a little bit about the characters. I realize now, having done a bunch of them, that my initial approaches to them probably could have used more preparation. I mean, I would love to go back and re-record the first few books in the Myron Bolitar series. There's a couple of characters in there where I just did not have a handle on them, and I would love to redo them. One of them is a great character named Win, and Win is this super-wealthy sociopath who's also a bit of a master at all these defense disciplines and martial arts, and he's a real scary and lovable companion to Myron Bolitar in his adventures. But I rendered him in a kind of a cartoonish, almost Thurston Howell III way. Sometimes I wake up in the middle of the night thinking, ugh, why did I do that? I should have done it better. But he and I really have not spoken that much about the roles. He seems to be happy with what I'm doing, and I'll just take that.
JR: With Harlan's books and with others that you've done, too, with the pacing and creating tension in the narrative, that action has to keep moving forward. Is it instinctual how you go about doing that?
SW: It's mostly instinctual, but also there's something that I was taught in college. I went to the State University of New York at Purchase, and in my acting class we studied this book called The Art of Interpretation, which spoke about the techniques and the challenge of presenting material, literature, even just speeches, motivational speeches, onstage at a lectern in a presentational form, and one of the things was to match the action as written as much as one can. So years back I did Stephen King's IT, which has gotten a lot of acclaim. And one of the things that happened, because it's such a long damn book, was that you begin to fall into the rhythms he writes. And so during chase scenes you are out of breath and moving fast, and during the more intimate, quiet scenes you slow down, and it becomes more quiet and close. Mostly it's a function of the writing. Again, it's the map that you follow. You just find yourself running when things speed up. But I also realize that I'm learning, and I've had the luxury of learning while I'm working. My early stuff I don't think was paced properly. I was going for clarity rather than emotional truth, but the more I have done it, the more relaxed I've become, and the more I realize that readers can follow you as long as you're telling the truth, as long as you're being faithful to the word. You don't have to be as slow or clear because people can hear you.
—
Hear the full conversation on the podcast. To explore the whole archive of "Behind the Mic with AudioFile Magazine," subscribe and listen on iTunes, Stitcher, Google Play, or wherever else you find your favorite podcasts.
Photo credit: Photo by Maarten de Boer/NBCUniversal/NBCU Photo Bank via Getty Images