Wil Wheaton joined AudioFile's Michele Cobb to discuss the audiobook of his "annotated memoir," STILL JUST A GEEK. In addition to his acting and producing work, Wheaton has narrated audiobooks by John Scalzi, Andy Weir, and Ernest Cline. He tells AudioFile listeners about what it was like to revisit his 2004 memoir JUST A GEEK, asking author Neil Gaiman to write and record the introduction, and more. Watch the full conversation below.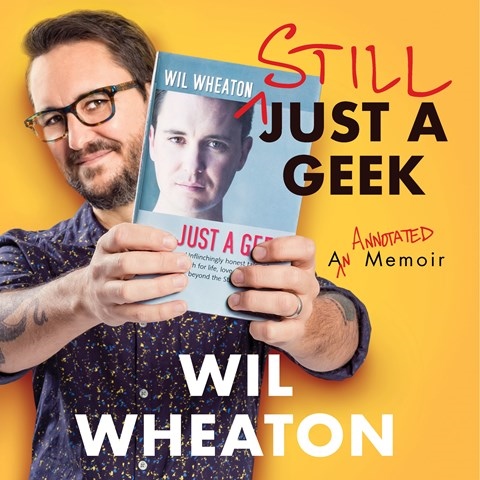 STILL JUST A GEEK
by Wil Wheaton, read by Wil Wheaton, Neil Gaiman [Introduction]
Harper Audio
Actor Wil Wheaton—from "Star Trek: The Next Generation"—has managed something many of us have wished for at one time or another—a do-over. With humor and humility, he explains and mostly apologizes for his 2004 memoir JUST A GEEK. Using the acting skills he honed at an early age, he indulges in audiobook therapy. He invites us into his inner circle of friends and confesses misdeeds. As friends, listeners would tell Wil to relax and accept his humanity.
Find more audiobooks narrated by Wil Wheaton in his audiography.
Wil Wheaton author photo by Tyler Shields.