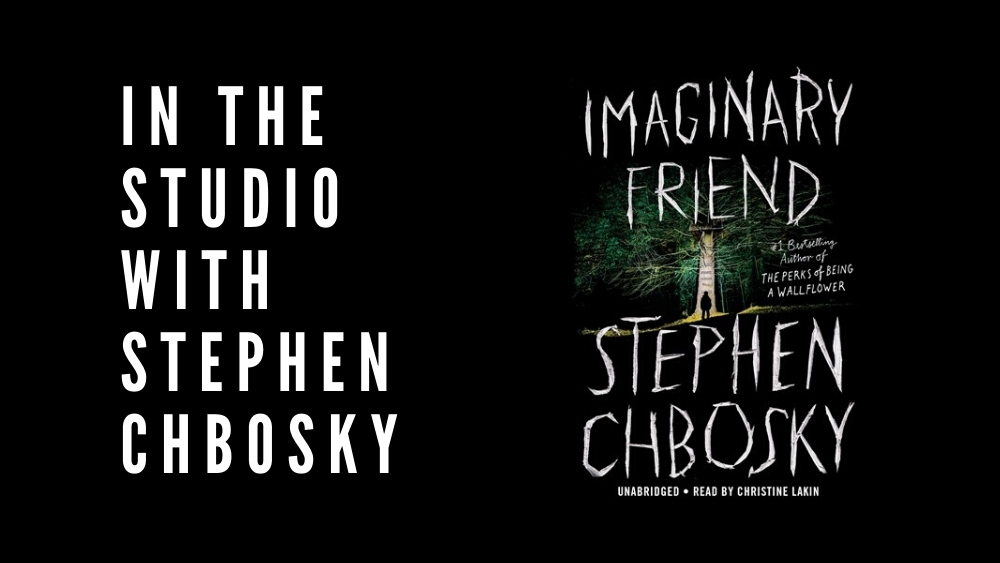 AudioFile spoke with film director Stephen Chbosky, author of THE PERKS OF BEING A WALLFLOWER, about the process of creating the audiobook of his new horror novel IMAGINARY FRIEND, which he cast and directed himself.
AudioFile: Tell us about how you came to be involved with directing your own audiobook. Was your film directing experience helpful?
Stephen Chbosky: I became involved in my audiobook because simply put, I love audiobooks. I live in Los Angeles. The reality of traffic there is that I have more time to listen than read. So, I've been on a steady diet of classic audiobooks for years. My movie directing experience was a natural fit.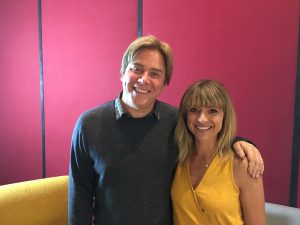 AF: What was the casting process like? What did Christine Lakin's performance bring to the project?
SC: My producer, Lisa Cahn, shared about 10 – 15 different actors and actresses who were available during our production schedule. There were a lot of talented people, but the minute I heard Christine Lakin read, I knew we had the perfect actress. Christine brings depth, humor, surprising choices, and the ability to scare you when the time is right. But more than anything, Christine brought her experiences as a mother. The central story of IMAGINARY FRIEND revolved around a single mother and her son trying to survive in the world, and Christine made me deeply feel that. She is a wonderful talent.
AF: What was it like revisiting your own work in this new medium? What surprised you most about the process?
SC: I loved it. I've had these words and these characters swimming inside my head off and on for the last ten years. It was liberating and inspiring to hear everything in Christine's voice. It made me think about the eventual movie or TV show in surprising ways. It was a wonderful artistic experience. What surprised me about the process is how fast it is and how many steps it takes. Sometimes, Christine could do 100 pages in a day, and they were brilliant. I don't know how she did it, but I'm so grateful she did.
AF: Are you an audiobook listener yourself? If so, when and where do you listen most? Any recent or all-time favorite titles?
SC: As I mentioned before, YES! I listen in the car and if a book really has me in its grip, when I go to sleep. There are so many great ones. I loved The Girl on The Train with those three different actresses. I thought Claire Danes's performance of THE HANDMAID'S TALE was remarkable. I'm a huge Stephen King and Joe Hill fan, so pretty much anything by them. Most recently, THE FIREMAN. I loved that book and that performance.
AF: Anything else you'd like to share with us about creating the IMAGINARY FRIEND audiobook?
SC: This audiobook was a real labor of love for me. From writing the text to directing the performance to writing the musical theme that opens and closes the book. It was just a wonderful experience. And I want to thank all the people who worked so hard on it. Ian Layman and Dennis Kao and Christine and Lisa Cahn. I had a wonderful team who allowed me to try things, and I will always be grateful to them.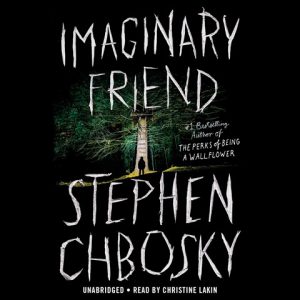 IMAGINARY FRIEND
by Stephen Chbosky, read by Christine Lakin
Macmillan Audio
AudioFile Earphones Award
Christine Lakin's superb narration of this horror novel immerses listeners in the gruesome. Christopher and his mother, Kate, finally settle in Pennsylvania after years of moving around. But what they thought was a safe and secure home turns out to be a playground for something sinister. When Christopher disappears for six days in the forest, Kate never expects it will be the start of a battle against evil forces. As Christopher uncovers mysteries, Lakin's multifaceted voice creates a mood of dread.