Waiting for an author to finish a book is not usually something an audiobook producer has to worry about. But for the producers at Macmillan Audio, Hachette Audio, and Harper Audio, all they could do was wait for The House Select Committee to Investigate the January 6th Attack on the United States Capitol to finish their final report.
The book was scheduled to come out in September 2022, then October, and by the middle of December, there was no sign of the finished product. "They did such a great job with the public hearings, but when it came to writing, it was a function of chaos," explains New York Times reporter Luke Broadwater, who also wrote and read the introduction for Hachette's version. "Conflicting views and drafts, thousands of interviews to edit and synthesize."
"The wait for the release of the report was adrenaline charged for me," Deanna Anthony, one of nine narrators on the Macmillan version, remembers. "I constantly refreshed my email and stayed alert to what was being reported on national newscasts during the days we were waiting."
"Our production team remained calm. We'd briefed everyone well in advance. Everyone knew the timeline could get seriously crunched," says Macmillan Senior Director Guy Oldfield.
Hachette producer Melanie Schmidt agrees. "We knew we'd have to have a massively faster production schedule."
The Report finally "dropped" at 9:45pm on December 22, 2022. The race was on to record, edit, and master three different audiobook versions of a historically important, politically charged document as fast as the producers could produce.
Early on, Macmillan decided on an ensemble of nine narrators paired with nine editors to split up the duties of reading the 845-page, 24-hour-long tome. Oldfield decided to "dive deeper into our data-driven narrator database to find high-performing nonfiction narrators, then assemble a cast that represents the American people. I wanted voices of all experiences who could bring energy and journalistic rigor to our audiobook."
Emphasizing clarity and consistency, Hachette Publisher Ana Maria Allessi and Producer Melanie Schmidt chose to work with a single narrator, and Cindy Kay's natural, grounded delivery fit their bill perfectly. "The writing style was a pleasant surprise," Kay says. "From the first sentence, the authors set the stage, drew us in, and made their points quite well. It made for more interesting reading certainly, and hopefully good listening, too."
For Joe Knezevich, who narrated Harper's version, it was all about dialing in the right voice. He received just one note from Caitlin Garing at Harper. "All she said was that it should feel more natural, like a story, and less like reportage. And I knew exactly what she meant." From there Knezevich "leaned into the story" and matched the energy of MSNBC's Ari Melber, who provided the foreword for their version.
Macmillan's JANUARY 6TH REPORT audiobook was produced in 48 hours and ready for release on December 28. Hachette's version came out on the two-year anniversary of January 6th, and Harper's arrived on January 31.
Every person involved in producing the report felt they were working on something special. Guy Oldfield concludes, "The level of detail the report exposes is extraordinary. You can't ignore the facts. The events of January 6th were violent and very dangerous for this democracy. The report is a wake-up call about the consequences and demands a moment of profound self-reflection. I think the audio edition makes that process all the more possible and all the more real."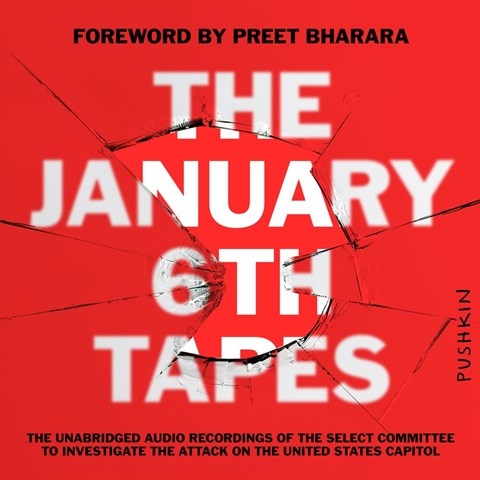 Listeners who were fascinated by the January 6th Committee's nine live broadcasts over the summer of 2022 can hear THE JANUARY 6TH TAPES, complete and unabridged recordings of the proceedings featuring such recognizable voices as Representatives Bennie Thompson and Liz Cheney, with former U.S. Attorney Preet Bharara introducing each segment.
Brian Price is a freelance audiobook and audio drama producer, writer, and director.
Deanna Anthony photo courtesy of the narrator; Cindy Kay photo by Duston Todd; Joe Knezevich photo courtesy of the narrator