AudioFile spoke with the production team at Podium Audio (Tamara Marston, casting; Larry Powell, associate producer and casting director; Maggie Silver, creative producer and head of marketing; Emily Derr, executive producer, head of production; Dr. Rebecca Hall, author; and DeWanda Wise, narrator and executive producer) about creating the combined memoir/audio play/graphic novel WAKE: The Hidden History of Women-Led Slave Revolts, one of AudioFile's 2022 Best Audiobooks.
AF: Tell us about how you went about casting the narrators for WAKE.
Tamara Marston: DeWanda Wise was a very quick choice from the get-go. I've followed her work, loved her interviews—we knew how much she could bring to this important project. From her first minute at the mic, she embodied the intelligence and integrity, the fierceness and compassion, and the gravitas needed to do justice to Dr. Hall's epic achievement of bringing this history to life.
Larry Powell: I sat in silent meditation quite a bit as I was putting together lists for the various roles of WAKE. I had to take an instinctive and spiritual approach to imagining the alchemy of this ensemble. Each potential actor required depth and range to play characters across generations, societies, cultures, and regions. And as a descendant of enslaved people myself, I found it a deeply emotional process to invite fellow descendants to play the roles in this work.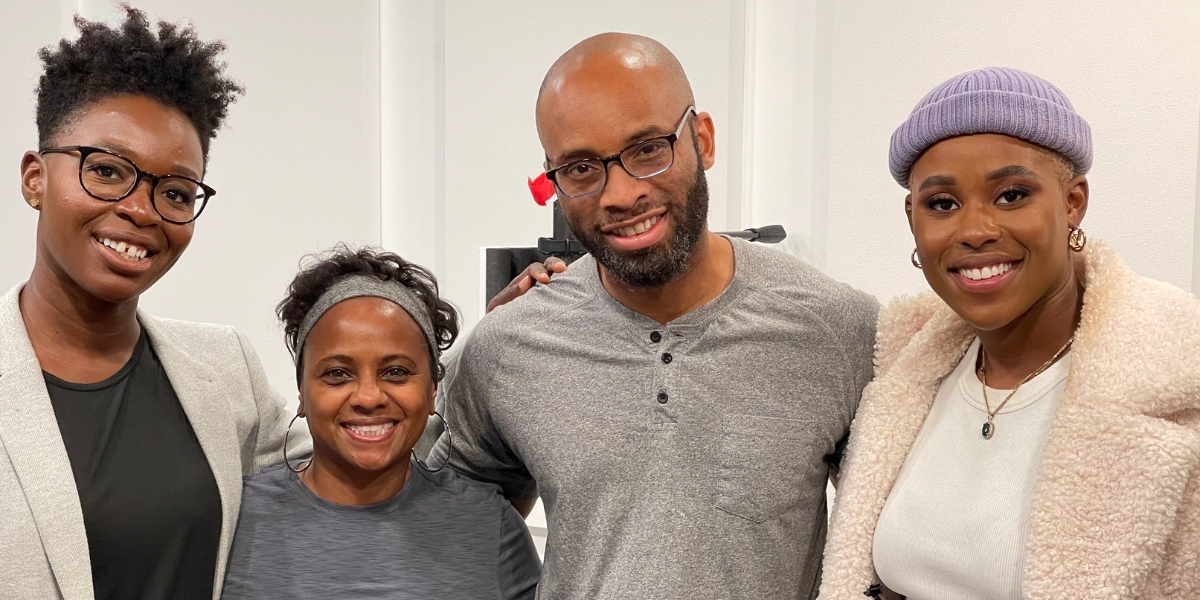 AF: What were the challenges of turning this graphic novel/memoir into an audiobook?
Maggie Silver: Neither we [Podium] nor Dr. Rebecca Hall wanted to "port" the graphic narrative into a "listen along" audiobook format that would accompany the graphic novel. Instead, we embraced the challenge of developing an original audio work that delved deeper into Rebecca's life story, drawing upon elements of the graphical narrative to create a wholly original audio work that aimed to complement the gorgeous synergy between Rebecca Hall's words and Hugo Martinez's illustrations.
Dr. Hall's intimate involvement was the ultimate gift to this audio project; however, the creative development process presented all WAKE collaborators with myriad challenges. Playwright and screenwriter Tyler English-Beckwith requested that Dr. Hall record lengthy voice memos detailing her childhood and education and, most important, the lifelong journey that led her to her creating the graphic narrative. Understandably, it was extraordinarily emotional for Dr. Hall to recall specific traumatic memories and to unearth emails, texts and documents—such as the racist lesson plans she was mandated to teach—to accompany her voice recordings. Thanks to Dr. Hall's bravery and tenacity, the emotional journey that underpins the audio drama was fully realized in the creative development process and set the stage for attracting top acting talent to the project, starting with the ebullient DeWanda Wise.
It should also be noted that Dr. Hall also served as the natural dramaturge of the audio work: Painstaking efforts were taken to ensure the historical accuracy of depicted scenes, on the page and in production. For example, it became apparent that hiring an accent specialist, the talented Erin Nicole Washington, was essential in helping many cast members portray regional African accents and dialects instead of "Pan-African" accents and in avoiding stereotypical accents that perpetuate an inaccurate portrayal of how enslaved people spoke in American cities.
Emily Derr: It was also a challenge to clearly signal the time transitions throughout the piece without creating a stilted or illogical listener experience. We didn't want to overwhelm the listener with overproduction; rather, we wanted to give a sonic shape to each physical scene while leaving room for DeWanda Wise's emotionality, Tyler English-Beckwith's lyricism, and Jace Clayton's score.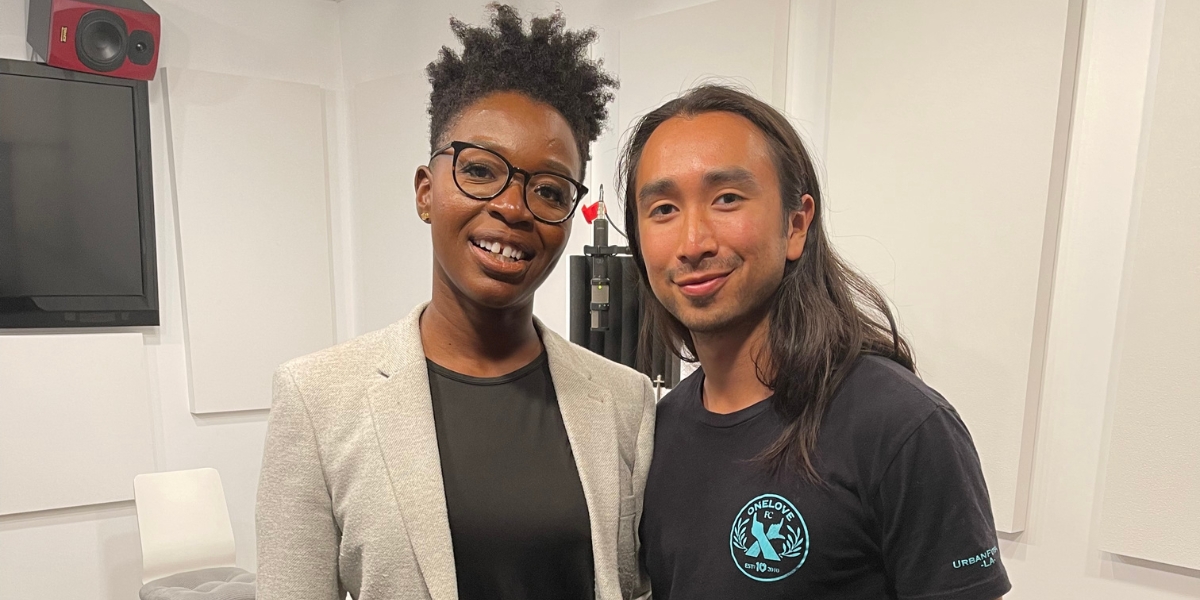 AF: Tell us about the music and sound effects and how they are integrated into the audio drama.
Emily Derr: There were recurring themes in the sound design, such as the cyclical momentum and beat of waves that directly correspond to the musical themes of the piece. We aimed to sonically portray the past washing up into the future, driving it forward, the future being inevitably tied to the past—the drumbeat of change. We wanted to put that beat into the listener so they can carry forward the momentum of WAKE's message and story into their real life.
AF: What was it like to revisit the story of WAKE in this new medium? What new audiences do you hope to reach through the audio format?
Rebecca Hall: When my agent first presented me with this opportunity, I had no idea what an audio drama was. I listened to a few samples of the format and found the sound effects to be overwhelming. But the team at Podium pointed me toward other examples of the medium, and I began to understand how this medium and format can be quite nuanced and complex. I'm hoping people will just sit and listen and let the story wash over them.
One of the things that was most surprising to me in the process of publishing the graphic narrative was how deeply young people connect with the material. I partnered with the Ida B. Wells Education Project to put together a curriculum for teachers to use to teach the book to high school students across America, so I've been fortunate to observe many students who are learning about this history for the first time. I was amazed at how engaged all of the students were. And I've come to learn it's because they knew they were being lied to. This country has been committed to the refusal of history—it's part of its DNA. I want this audio work to be another way into this material. I want it to help combat the erasure of history in young minds and help them gain clarity.
AF: Did you get to speak with Dr. Hall, and if so, how did that inform your performance in WAKE?
DeWanda Wise: Yes, I had the opportunity to speak with Dr. Hall prior to recording WAKE. On a technical level, Dr. Hall has a very specific vocal quality, and while I wasn't going for an imitation, it was important that I matched that quality in an inconspicuous way. Additionally, speaking ahead of recording gave me a greater emotional and psychological understanding of what she'd been up against. Like the history she'd unearthed itself, her own personal history is still very much present. Palpably so. It was a great honor to represent both her and her work.
Rebecca Hall photo by Cat Palmer, all other photos courtesy of Podium Audio