Renowned ballerina Misty Copeland narrates her graceful and inspiring new memoir, THE WIND AT MY BACK, which chronicles her friendship with her mentor, the trailblazing dancer Raven Wilkinson. Get a behind-the-scenes peek at Misty in the studio, and learn more about her approach to narrating the audiobook and the Misty Copeland Foundation in our Q&A with her below.
"I'm really excited to share our friendship and our journey and all the lessons she taught me."—Misty Copeland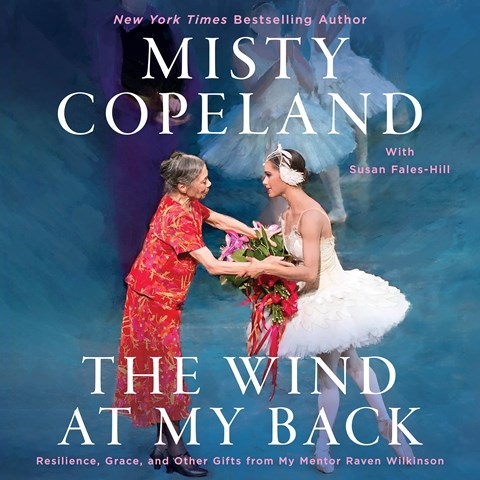 AudioFile: This is not your first time in the recording studio. How did you prepare to narrate this audiobook?
Misty Copeland: I definitely thought a lot about audiobooks that I was drawn to and why. Trevor Noah's BORN A CRIME being one. It's the authenticity and groundedness that audiences connect to that I wanted to capture. So that was my approach.
I also got comfortable by reading my book a couple of times in the days leading up to the recording sessions so I was really in the zone.

AF: What was it like to revisit your writing and this subject while recording?
MC: Raven and I, separately and together, have had a lot of ups and downs in our stories, and bringing the two journeys together in one book was highly emotional.
But reading the entire book out loud was even more touching than writing it. In a couple of chapters, we had to do several takes because I couldn't stop crying. Tears of loss, frustration, and joy.
AF: Who is the audience you are hoping to reach with your book and audiobook?
MC: I'm hoping to reach young people with aspirations and dreams, anyone looking for inspiration or those who have interest in intergenerational relationships. This book is about love, support, and perseverance.
AF: Tell us about the Misty Copeland Foundation.
MC: After 20-plus years as a professional dancer, not only striving to climb the ranks within ballet but also working to create more access and opportunity for Black and brown people, I felt that it was important for me to go beyond being a presence and representation on the stage. Starting a foundation, I felt, could be the true impactful community work necessary to see systemic change.
The Misty Copeland Foundation aims to support community-based opportunities to explore dance, especially programs that engage young girls and boys of color; advance the art form of ballet through greater diversity, equity, and inclusion; and pursue social justice through arts activism.
Our first program that MCF will offer is BE BOLD, a comprehensive teaching and learning model with five linked components: Introductory Ballet; Health and Wellness; Music for Ballet; Mentoring; and Tutoring. The title translates into its dual purposes. BE: Ballet Explorations. BOLD: Ballet Offers Leadership Development. The BE BOLD model will be offered in local Boys & Girls Clubs and similar community-based, child-serving settings. The goal of BE BOLD is to make ballet accessible, affordable, and fun, especially for young children of color.
Misty Copeland photo by Nisian Hughes.