Go behind the scenes of making an audio drama as Susan Loewenberg, producing director of L.A. Theatre Works, tells us about their new production of I LOVE LUCY: A Funny Thing Happened on the Way to the Sitcom.
AudioFile: Tell us about the casting process for I LOVE LUCY, especially for the roles of Lucille Ball and Desi Arnaz. And once they were cast, what kind of preparation did the actors do to play these real-life characters?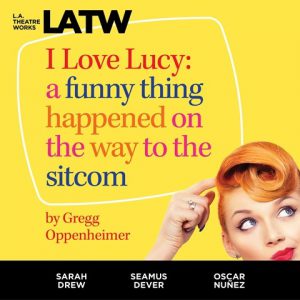 Susan Loewenberg: We were so lucky to get Sarah Drew and Oscar Nuñez for Lucy and Desi, who with the rest of the stellar cast of eight actors represented over 40 characters, each of whom was an actual real-life person and was in some way part of the making of I LOVE LUCY. We provided the actors with sound bites, photographs, and video footage of every single one of their characters to use as a basis for their research, but the real magic happens when actors like those in LUCY breathe their own life and artistry into the piece.
AF: There are several "show within the show" re-creations in the play—of radio shows and TV shows—and also suggestions of Desi Arnaz's band's music. Tell us about creating the soundscapes for this play.
SL: Our sound designer and recording engineer Mark Holden is a master at creating sonic atmospheres that conjure up exact times and places. And fortunately for us, he's also quite the audio historian. He made absolutely sure that everything sounded just as it should—from the 1950s audience reactions to the sound of the period microphones. As for the music, playwright Gregg Oppenheimer worked with composer and performer Doug Walter to re-create the distinctive sound of the original TV show's theme and incidental music.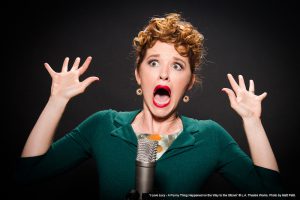 AF: Tell us about how you ensure that your productions are both interesting to watch live onstage for an audience and also give listeners a full experience of the performance when they're hearing it on the radio or as an audiobook?
SL: You have absolutely highlighted the challenge and the fun inherent in our recording method. Because theater is meant to be seen and relies heavily on scenic elements, lighting, and costumes to enhance the live theatergoer's experience, we needed to figure out how to engage our live audience without those elements, and without much movement—to say nothing of the fact that the actors are holding scripts, standing in front of microphones, and staring straight out, rather than turning to relate to one another.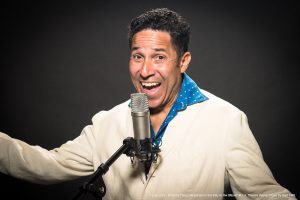 Sounds like an impossible task—but guess what? If you can work with powerful actors, first-rate material, and absolutely focused performances, the power of the words, flawlessly executed with every actor working in his or her own personal "close-up," communicates directly and intimately to the audience. Typical comments from our audiences are "I didn't miss the costumes or scenery one bit" and "The actors held me spellbound." Or, "Who needs those pesky sets and costumes?" And, "I really heard the play because there were no distractions."
However, the other challenge is to make sure that what we are recording, which is our ultimate goal, works for the audience that is only hearing the recording of the play. As I often say to actors, "It's great to smile, but if the smile is not in your voice, the listening audience will never know what you wanted them to know."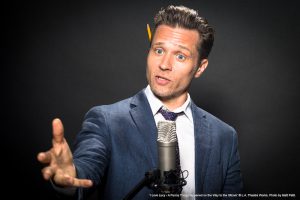 When we go over the script in preproduction, we need to make sure that every visual element has a sound effect that replaces its visual counterpart, and that we make sure to ID characters by name more often than in the original script so that the listener is not left wondering who said what. We record a play four or five times before the audience, and it is my job and that of the director to pick the best take for each scene or line, and to make sure that the actor was completely accurate when speaking that line.
We also need to listen for pace—sometimes the right emotion is there, but the pace is too slow, and we will decide to use the take but have the editor painstakingly go through the speech and tighten it. There are many more aspects to putting the recording together, but these are some of the main challenges.
AF: Anything else you'd like to share with us about the production?
SL: It was great fun to work on, and it is amazing how many Lucy fans are still out there. So it was a privilege and a pleasure to give them one more way to remember Lucy and Desi.
Thank you for taking us behind the scenes of I LOVE LUCY, Susan! Discover more audio dramas from L.A. Theatre Works on AudioFile's website.
This post was adapted from an In the Studio article in the February/March 2019 issue of AudioFile Magazine. All photos are by Matt Petit. Top photo shows Abigail Marks, Sarah Drew, Oscar Nuñez, Ron Bottitta.