Guy Oldfield is the Senior Director of Production at Macmillan Audio. He has spent 20 years working in production, a career that spans radio, live television, podcasting, and publishing. Guy joined Macmillan Audio in 2018, managing the production of audiobooks across all of Macmillan's imprints. An expert and leader in production, he has produced more than 350 programs, including audiobooks by Oprah Winfrey, Alicia Keys, Robert Jordan, and Nora Roberts. Guy's productions have won distinguished industry awards, including numerous Audies, and have consistently topped the New York Times bestsellers list. Here he responds to AudioFile managing editor Jennifer Dowell's questions about diversity and representation in audiobooks.
AudioFile: What does diversity in audiobooks mean to you and your work?
Guy Oldfield: Book publishing, like most mainstream media, is experiencing a profound moment of self-reflection about the types of stories and storytellers it chooses to present. Our power to "choose" voices is very much in the spotlight. We at Macmillan take that responsibility very seriously. This is reflected in the range and diversity of books published by our imprints and the narrators we hire.
Book publishing, as my colleagues with decades of experience will confirm, is about long-term success. What's significant for audiobooks is this environment of cultural change combined with rapid and long-term growth in audiobook consumption. These are mutually reinforcing trends, where diversity represents both a cultural and commercial imperative. All voices need to be heard. As the demand for audiobooks grows, so does the range of what we publish. The result? New authors, new listeners, new opportunities.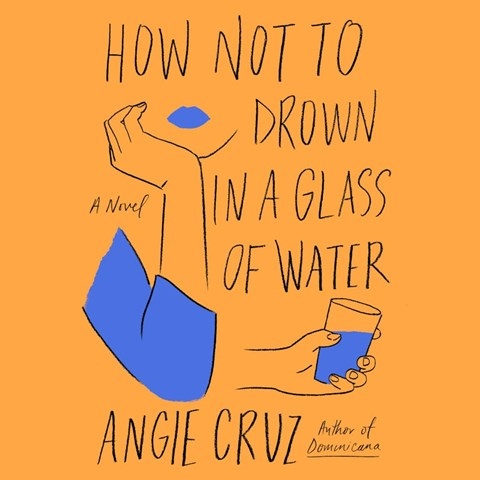 AF: How do you discover new voices?
GO: Good question. It's a never-ending task! At the heart of our success are research and collaboration. Our research process starts very early, around seven to nine months before publication. Our entire team discusses every audiobook we're making. My team then works directly with the authors to find voices that fit their books. Macmillan Audio works incredibly hard to serve the needs of our authors, especially books that center on issues of identity.
The research process can take you anywhere. I recently cast Rossmery Almonte to narrate Angie Cruz's HOW NOT TO DROWN IN A GLASS OF WATER. I discovered Rossmery in a Puerto Rican and Dominican theater troupe. I needed a voice that was raw, with real experience of Dominican life in New York. HOW NOT TO DROWN is Rossmery's first narration—and that's the point. The experience of the book's protagonist, Cara, needed complete authenticity. As the audiobook director shared with me from our launch event, "The audience was 98% Dominican women, and they all couldn't get over how Rossmery was exactly the voice they'd hoped for. They all said she sounded like their mom, tita, abuela, sister." That's the lightning in a bottle Macmillan Audio strives for.
AF: There are thousands of voices out there, to match thousands of books. How do you remember them all?
GO: There's a concept I often discuss with my team—"institutional memory." I was very fortunate to spend over a decade working for the BBC in the UK, an institution that taught me the value of structure and to present society as it looks, sounds, and feels. This inspired me to create Macmillan Audio's narrator database, Bard. There's nothing new about narrator databases, many exist. Bard is a service we use every day to find and retain knowledge of new and diverse voices. Without it we wouldn't have discovered incredible narrators like André Santana, Michelle Lee, and Torian Brackett. Bard also tracks all narrator reviews. This is invaluable in charting the trajectory of everyone's career and helps us define what works for an individual and where they could develop. This is the long-term equity we practice in casting audiobooks for Macmillan Audio.
In addition to Bard, which we can use to contact new narrators, meeting new voices in-person is a priority. We host quarterly New Narrator Events at Macmillan's HQ in New York, and will take this event to locations across the U.S. Dedicating access to our studios and the expertise of our team is invaluable in supporting new and underrepresented talent. It's a lot of fun and a space to build relationships and provide real resources and opportunity.
AF: Which genres are most groundbreaking in featuring new and diverse voices?
GO: Young Adult fiction is a focal point for new authors writing about identity issues. Macmillan authors such as Faridah Àbíké-Íyímídé and Aiden Thomas, who write about racial and LGBTQI+ themes, give us the opportunity to discover and develop vibrant voices that best represent their writing.
You might be surprised that horror is another genre in which our authors represent diverse perspectives and identities. MANHUNT by Gretchen Felker-Martin required extremely careful casting as a postapocalyptic novel that follows trans women and trans men. The result is a brilliant and gripping audiobook unlike anything you've heard before.
More broadly, our aim is using diverse voices in all audiobook narration, not just specific genres, so that the best talent is discovered and nurtured for the long term.
AF: What future trends do you expect to see?
GO: I see a parallel between the future of audiobooks and the history of online video and on-demand television. Ideas, issues, and individuals went from obscurity to the mainstream via YouTube or TV streaming services. Television is forever changed. I'm convinced audiobooks, in their own way, will change the trajectory of book publishing. What does this mean for listeners? Amazing audiobooks you'd perhaps never considered before, audiobooks that resonate more deeply and in every way between their author, narrator, and listener. For diversity and representation? More creative and commercial opportunities for diverse authors and, in turn, diverse narrators. I think audiobooks are another social "space," one with incredible potential for all.
Jennifer Dowell is AudioFile's managing editor. Photos courtesy of Guy Oldfield