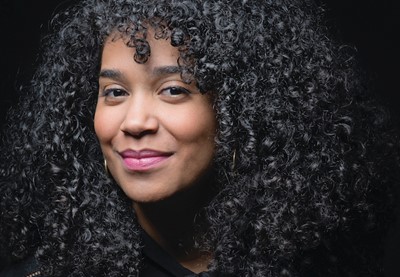 AudioFile Magazine was delighted to feature an interview with author Elizabeth Acevedo in our June issue of the magazine. Also in June, Acevedo was honored with the Carnegie Medal, the annual British honor for new English-language books for children and young adults. She was the first writer of color to be honored with the award. Read Susie Wilde's interview with Elizabeth Acevedo below.
Last year Elizabeth Acevedo's novel THE POET X garnered, among other awards, the National Book Award for Young People's Literature, the Pura Belpré Award for outstanding Latinx literature, and the Printz Award for excellence in young adult literature. The audiobook, narrated by Acevedo, was an Odyssey Honor, an Audie Awards finalist in two categories, and an AudioFile Earphones Award winner. Her newest title, WITH THE FIRE ON HIGH, has already received three starred reviews.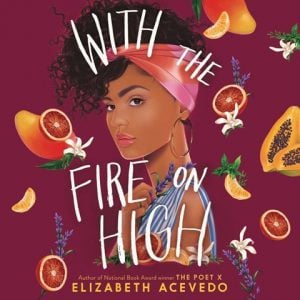 The book began as Acevedo was watching a teen episode of "Chopped." She says, "My heroine, Emoni, started talking in my ear. I realized I wanted to hang out with her a bit more and hear what she had to say." This Afro-Latina protagonist is a high school senior with a 2-year-old and a passion for cooking.
Acevedo serves up a full helping of strong women in WITH THE FIRE ON HIGH, like Emoni's loving 'Buela, her paternal grandmother who has raised her and is helping to raise Emma, her child. Acevedo remarks, "If one combined Mami [from THE POET X] and 'Buela and others, they'd find a fusion of the women in my childhood. 'Buela allowed me to explore womanhood in many ways and in its many ages." There's also Emoni's best friend, Angelica, whom Acevedo refers to as "an easy spark of sunshine." Angelica is living her dream romantically, intellectually, and artistically. "She moves thorough the world with color," says the author.
Acevedo creates a tender male figure in Malachi. "He's Emoni's love interest in a story that isn't a romance. He shows that young women can be treated differently and that boys are allowed to listen, be kind, and say, 'I don't know if I'm ready.' I wish I had known when I was growing up what kinds of things I could ask of people in relationship."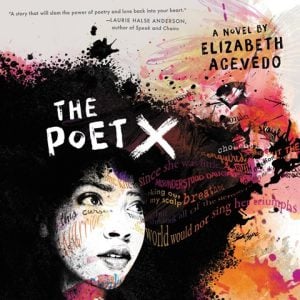 When she writes, Acevedo says she is "just following the character." Only later does she find the threads and themes in her work. The heroine of THE POET X, Xiamora, is trying to get away from her Mami's strict rules, while Emoni has lost her mother at birth and is trying to imagine how her parenting might be different if her mother were present. Though their situations seem markedly different, each character carries an ache of "wanting to collapse the distance between themselves and their mothers. Both heroines want to connect with their families and their histories and who they are as young women."
WITH THE FIRE ON HIGH is written in prose, a fact that might surprise those who know Acevedo as a spoken-word poet and admire the excellence of her free verse in THE POET X. "A lot of the poetry slipped in, a lot of the music. Even when I was revising, I was hypersensitive about how something sounded." She shows her attunement to the sounds of language in both audio productions of her books.
Acevedo considers herself "still a baby to audiobooks." As "a New Yorker through and through", she only began listening two years ago when she started driving. She chooses mostly YA books, many written by her contemporaries. She read Tomi Adeyemi's CHILDREN OF BLOOD AND BONE and then listened to Bahni Turpin's narration. "I thought what she was able to bring was fantastic."
She also seeks authors narrating their own work like Jason Reynolds's recording of his free-verse novel, A LONG WAY DOWN. Because she often knows her fellow authors and their voices personally, she says that hearing them telling a story is "like these are my homies talking to me in my ear and telling me these amazing tales."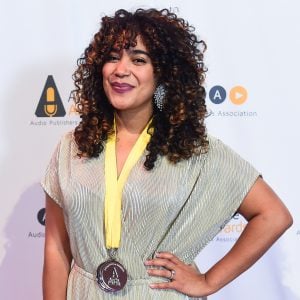 On the other hand, Acevedo doesn't listen to the audio productions of her own works. "I'm too critical. It would be a great way for me to make sure that I do better the next time when I'm recording, but I can't even watch my own poetry performances, which maybe sounds thin-skinned."
She does learn from listening to the work of others. "With an audiobook, you have to trust both writer and narrator. Sometimes the narrator is fantastic but can only do so much to elevate the story. Sometimes I like my voice better when I read to myself. It's a joy when I find a story that makes me forget that I'm a writer, forget that I've been in the studio, a story I can just enjoy. That's when I know it's magic."
Originally published in AudioFile Magazine's June/July 2019 issue. Elizabeth Acevedo photographs by Stephanie Ifendu and Max Flatow Photography.