Pam Almand, who recently narrated Amelia Earhart's memoir, 20 HOURS, 40 MINUTES, is also a pilot who knows what it's like to fly alone across the ocean.
"I built my flying time by ferrying planes solo across the Atlantic. In my final few flights, I piloted two-seater single-engine airplanes, just the way Earhart had. I trained in the 1980s, but we used the same navigation system she used in the 1920s—dead reckoning!" she laughs. "Basically, you determine the heading and calculate the time it'll take based on the forecast winds. Then you fly across the Atlantic, and when the estimated time arrives, you hope you see land."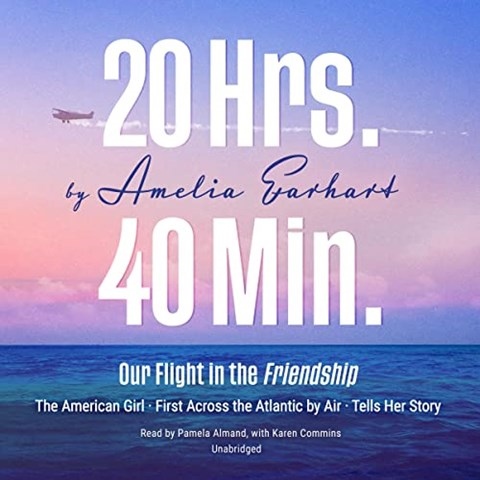 Almand's transition from pilot to narrator began imperceptibly. She was still flying 747s for Northwest Airlines when she appeared in a "real people get headaches" commercial for Tylenol. Soon, Northwest asked her to narrate training videos. Then, just when too many hip and knee replacements forced her to relinquish the cockpit, the pilot's union called on her to narrate an informational video.
"I thought, 'Maybe I should give this a try professionally.'" So, with the same thoroughness that she'd brought to flying, she signed up for coaching, practiced a lot, built her first studio, and named her business The Captain's Voice. Almand's current studio on the second floor of her home boasts a leafy view from the window and eight-inch-thick walls, ceiling, and floor. "I live near Jacksonville Naval Air Station. Helicopters fly directly overhead, but in my studio you can't hear a thing."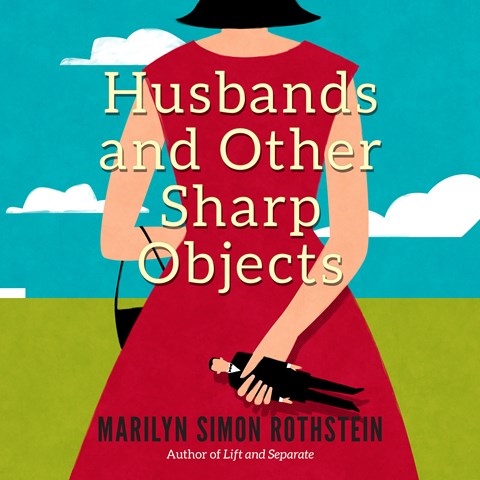 In addition to narrating, Almand is a "huge fan" of audiobooks. While driving or riding her "exercise bike to nowhere," she listens to international intrigue and the occasional romance. "I listen for fun, and as a kind of personal coaching. I learn a lot by hearing how my favorite narrators do things." About 10 years ago, Almand decided to try narrating fiction herself. She signed up for coaching from producer Paul Ruben and AudioFile Golden Voice narrator Scott Brick, and took acting classes. Excited and a bit nervous, she accepted her first fiction title, BROWNIES AND BETRAYEL, a Sweet Bites Mystery by Heather Justesen.
"I loved doing it, and it's still selling like hotcakes!" she says with a grin.
The fifth book she recorded, COME TO ME ALIVE, was nominated for an Audie Award. "I was so starstruck just to be nominated. It encouraged me to keep going." A few years later, Almand won an Earphones Award for her performance of Marilyn Simon Rothstein's novel HUSBANDS AND OTHER SHARP OBJECTS.
These days, voice-over work and fiction and nonfiction audiobooks keep her recording full-time. Yet she dons her uniform to speak to student groups whenever she can. "Girls, in particular, don't think of flying when dreaming of careers," says the woman who has voiced Earhart. "I encourage them to consider the skies."
Pam Almand photo courtesy of the narrator