Golden Voice George Guidall has recorded more than 1,300 audiobooks. Just contemplate that for a moment! His audiography includes classics such as Cervantes's DON QUIXOTE (almost 40 hours) and fiction such as Wally Lamb's I'LL TAKE YOU THERE as well as biographies, memoirs, and nonfiction. For a full list, check out George Guidall's website.
Most importantly, for readers of this blog, he is the voice of many of our favorite mystery/suspense series: Daniel Silva's Gabriel Allon series; Randy Wayne White's Doc Ford series; and Craig Johnson's Sheriff Walt Longmire series.
Why do we love listening to George?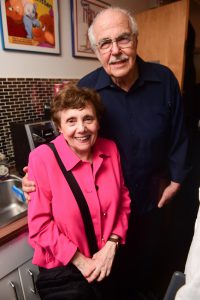 Let's face it—he has mastered the keys to the successful narration of a mystery/thriller. He inhabits the characters in each of these very different series with the right accents, tone, and, most importantly, pace.
I had the opportunity to chat with George Guidall at the recent reception for the newly inducted Golden Voice honorees. I asked him about the variety of accents he has to do in the Daniel Silva books, from Polish-born Israeli Ari Shamron to the English spy Christopher Keller, who can imitate multiple variations of Irish accents (which he does in THE ENGLISH SPY). He shared with me that accents are no problem for him, and when he did the first audiobook in the series THE KILL ARTIST, he was instructed to voice lead character Gabriel Allon without an accent.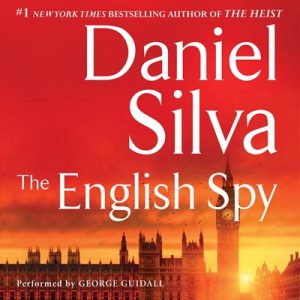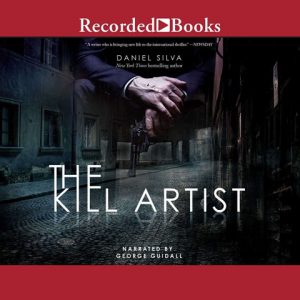 This made me realize the extent to which narrators work behind the scenes with the author, producers, and directors to bring an audiobook to our ears. I am so looking forward to the next audiobook in the Gabriel Allon series, THE NEW GIRL, due out in July and narrated once again by George Guidall.
Right now, I am enjoying listening to Randy Wayne White's CARIBBEAN RIM and finding myself truly impressed with how George can perform a roster of colorful Caribbean islands characters and convey the dark humor that is so much a part of the author's style.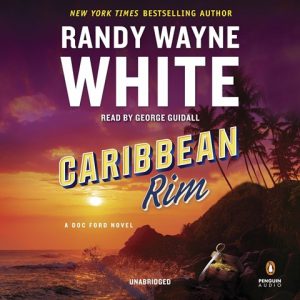 Successful mysteries and thrillers are driven by the scenes that build with tension. Narrators have to use pace, vocal variety, and tone to convey these intense moments. George uses his considerable acting talents to keep the listener glued to their earphones. I am realizing this has to do as much with the words on the page as it does with the varying pitch of the narrator's voice, his pace, his breath, and the pauses—the moments of silence. George does this successfully in all of the series mentioned above, whether it is taking down a terrorist in Europe, chasing treasure hunters in the Caribbean, or keeping Wyoming safe.
We might need a Platinum Voice award to cover George's next 1,000 books.
Photos by Max Flatow Photography