Narrator Joel Froomkin loves Broadway, and he jumped at the chance to narrate ALL THAT JAZZ: The Life and Times of the Musical Chicago by one of his favorite authors, Ethan Mordden. Watch this video as Joel shares his enthusiasm about this deep dive into the history of the musical Chicago.
"Mordden's writing is phenomenal—it's entertaining and wry and witty and opinionated, and he's a master storyteller."—Narrator Joel Froomkin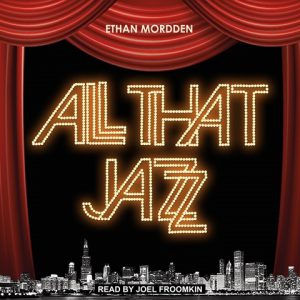 ALL THAT JAZZ: The Life and Times of the Musical Chicago
by Ethan Mordden, read by Joel Froomkin
Tantor Media
AudioFile Earphones Award
If this were just an audiobook about the evolution of the play CHICAGO, it would be engaging, but with Joel Froomkin's narration, it is absolutely delightful. Froomkin's performance is a marvel, making the politicians, the "dolls," and the smoke-filled rooms of the notorious city sizzle with decadence.  Mordden gives us lots of juicy backstory about the famous and infamous and their assorted connections to the characters in the play. Read the full review on our website.
ALL THAT JAZZ was featured on our podcast, Behind the Mic with AudioFile Magazine. If you want to hear more about why we love this audiobook, check it out!