Who's up for a 13th-century Welsh road trip? Let's hit the road less traveled with Elizabeth Kingston's historical romance DESIRE LINES, read by Nicholas Boulton. DESIRE LINES is book three in the Welsh Blades series, following THE KING'S MAN and FAIR, BRIGHT AND TERRIBLE. The author assures listeners that they are standalone audiobooks, but fair warning that if you listen to any one of them, as I did, you'll probably want to listen to them all! Before I say more, let's watch Nicholas Boulton sharing his experiences with narrating the story.
"It's a lovely book to narrate. It's full of rich period detail and wonderfully realized, authentic, and exciting characters we meet along the way."—Narrator Nicholas Boulton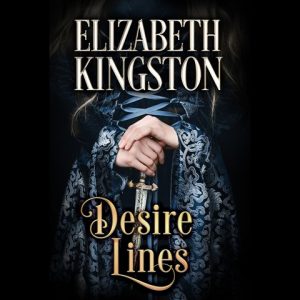 DESIRE LINES stars a displaced Welshman, Gryff, who is rescued from a difficult situation by the effectively violent Nan. Gryff desperately wants back into Wales, and Nan is looking for her missing sister. Hence the Welsh road trip! Listening to Nicholas Boulton narrate this historical romance is like jumping into a cold Welsh lake — total, awesome immersion into a foreign, often startling world of medieval politics, Marcher lords, authoritative women, and characters who battle to gain affection in a world of transactional relationships. Boulton acts like a local guide to listeners — he's indispensable company on the journey. Definitely don't miss this audio, or either of the prior two stories. Os gwelwch yn dda! (That's please, in Welsh, pronounced all together quickly as oss-gwel-ick-in-thah.) For a small taste of Boulton's Welsh audio goodness, listen to a clip on AudioFile's podcast below.
And for those of you who are now in love with Welsh, why not become a true audiophile and learn some of the language? Welsh is seeing a resurgence thanks to massive efforts to revive the language in schools and government, and it's absolutely gorgeous — check it out!