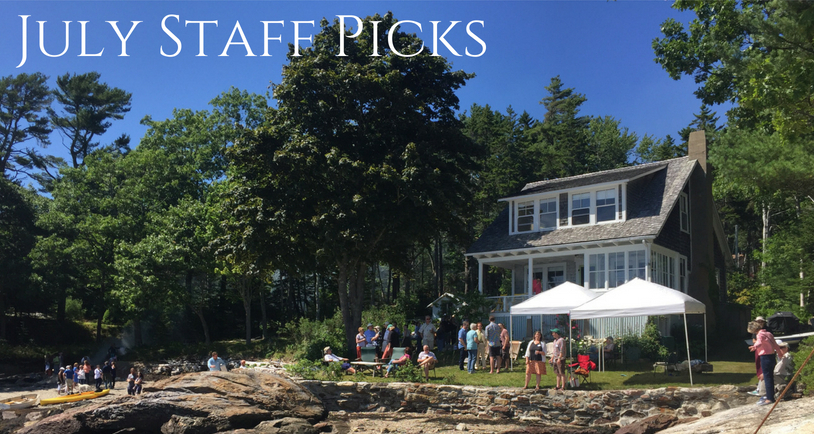 This past weekend, narrators, producers, and the AudioFile staff gathered by the sea for a day of sunshine and perfectly cooked lobsters. One thing is for sure — we had a lot of fun talking audiobooks with a crowd of audiobook lovers!
Our summer staff picks this month include 6 audiobooks — both new and old favorites — that are compelling enough to keep you company along the journey to wherever you're going, whether that's driving up the coast, strolling around the block, or commuting to work.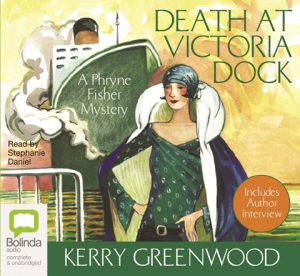 After looking for a new season of "Miss Fisher's Murder Mysteries" (TV) and finding none, I realized that I actually had not listened to all of Stephanie Daniel's great recordings of Kerry Greenwood's fab fun Australian series featuring Phryne Fisher. While I do love actress Essie Davis in her TV role, Stephanie Daniel gets to play ALL the parts, and does she ever! She was a master, and every one of Phryne's 20 adventures is narrated by Daniel. (Sadly, Daniel passed away in 2013.) DEATH AT VICTORIA DOCK is what I'm enjoying right now. Summer entertainment value is a 10! —Robin Whitten, Founder & Editor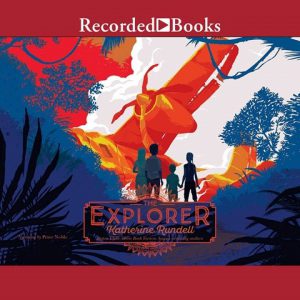 As I keep telling anyone who will listen, I absolutely loved Katherine Rundell's middle-grade novel, THE EXPLORER. It's a beautifully written old-fashioned adventure that just sings on audio. Narrator Peter Noble is so believable as the four kids stranded alone in the Amazon jungle, and he's especially amazing (and endearing) as 5-year-old Max. I was riveted and was sorry when it was over. If you loved the adventure (and peril) of Philip Pullman's THE BOOK OF DUST, then try this audiobook. —Jenn Dowell, Managing Editor
I'm drawn to histories that dig deep into the struggles of men and women in the midst of powerful change. Right now I'm listening for the second time to THE WARMTH OF OTHER SUNS, Isabel Wilkerson's history of the Great Migration of 1917-1970. Sweeping in scope and richly researched, it lays out the ever-present dread and frustration that led some six million black Americans to flee the Jim Crow South in those years. The combination of lyrical writing, a focus on three of the migrants, and Robin Miles's skillful and sensitive narration makes this an unforgettable audiobook. I only wish I could wave a magic wand so that every American got a free download. — Priscilla Grant, Contributing Editor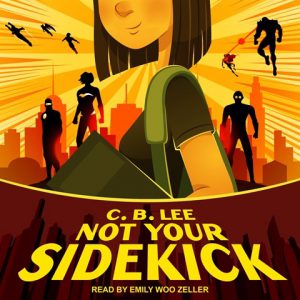 Jess is desperate to be a superhero like her parents, but she's almost 17, and there are no signs of any super powers showing up. In C.B. Lee's NOT YOUR SIDEKICK, it's been one hundred years since the solar flares that triggered World War III and genetic mutations that woke dormant super powers in some humans. Jess has tried everything — she can't fly, she can't manipulate magnetic fields, and she doesn't have super strength. But she does land an internship at an electronics and AI manufacturer, and her long-time crush Abby happens to work there, too. Emily Woo Zeller's dynamic narration draws listeners into the story full of secret identities, high school, and friendship. I'm already enjoying the second in the series, NOT YOUR VILLAIN, about Jess's best friend Bells. — Emily Connelly, Assistant Editor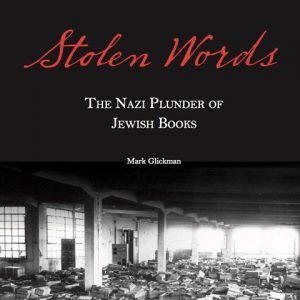 STOLEN WORDS proved for me a fascinating account of how the Nazis' complex attitude toward Jewish books led to both their confiscation and their preservation, and the postwar project of attempting to repatriate millions of volumes. What I'd read (with my eyes) by Mark Glickman before hearing this had convinced me the writing, as well as the researched account, would be compelling. Turns out his reading is good, too! Anyone who has ever had to deal with massive collections, trying to authenticate rightful ownership of stolen property, or the strange international laws regarding books stolen during wartime (they have to be returned to the national government of the nation where they were previously owned rather than to an individual!) is likely to be enthralled. —Francisca Goldsmith, Contributing Editor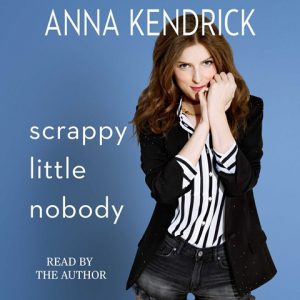 Anna Kendrick's voice and charisma make you forget that she is diminutive of size. I found her autobiography SCRAPPY LITTLE NOBODY a bigger pleasure because of how relatable it was — from one high school theater nerd to another. Though her experiences on Broadway were obviously the beginning of sending her to greater heights than most, it was a pleasure to hear in her own voice the often funny struggles that shaped her but were not dwelled upon. I listened as I drove to and from her hometown of Portland, Maine, which made it even more fun, and it encouraged me to watch the Pitch Perfect movies again — a full circle audio experience which surprised me! — Michele Cobb, Publisher
Which audiobooks are keeping your minds engaged and entertained this summer? Let us know in the comments!