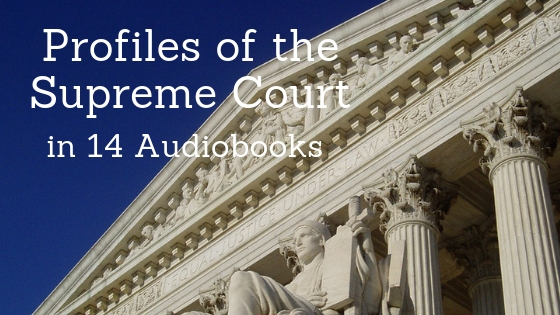 With all eyes and ears on the topic of the Supreme Court this week, I thought it would be interesting to see what audiobooks are out there by and about Supreme Court justices. Among the new audiobooks we reviewed this week is a children's version of Justice Sotomayor's memoir, THE BELOVED WORLD OF SONIA SOTOMAYOR—the original work, MY BELOVED WORLD, was read by Rita Moreno, who received deserved attention for her audio performance. The new family version has the added inclusion of a prologue read by Sotomayor herself.
The biography of Ruth Bader Ginsburg, NOTORIOUS RBG by Irin Carmon and Shana Knizhnik, as well as the documentary RBG, quickly come to mind. Narrator Andi Arndt does a nice job with the narration of NOTORIOUS RBG. And we're looking forward to hearing another brand new Ginsberg biography, RUTH BADER GINSBERG, by Jane Sherron de Hart and narrated by Suzanne Toren. In a recent biography of the early 19th-century Justice John Marshall, WITHOUT PRECEDENT: Chief Justice John Marshall and His Times by Joel Richard Paul, Fred Sanders's narration gives us a chance to understand the importance of this Federalist jurist. A thorough and exhaustive biography of LOUIS D. BRANDEIS is narrated by Sean Pratt and takes a look at a justice on the early 20th-century court. I was totally surprised not to find more audio biographies—or memoirs.
Several audiobooks on different eras of the Supreme Court are available. SHOWDOWN: Thurgood Marshall and the Supreme Court Nomination That Changed America by Wil Haygood gets an Earphones Award-winning narration by Dominic Hoffman. Jeffrey Toobin's THE NINE: Inside the Secret World of the Supreme Court is available in abridged form, read by the author, and also unabridged. Looking at Franklin Roosevelt's court, SUPREME POWER:  Franklin Roosevelt vs. the Supreme Court by Jeff Shesol is a strong option. Also on FDR's era, SCORPIONS: The Battles and Triumphs of FDR's Great Supreme Court Justices by Noah Feldman. Presidential biographer and historian James MacGregor Burns's PACKING THE COURT:  The Rise of Judicial Power and the Coming Crisis of the Supreme Court gets solid treatment from narrator Norman Dietz, and it may be interesting for listeners to hear what Burns wrote in 2009 relative to current events.
Looking at Thomas Healy's title about Oliver Wendell Holmes and the history of free speech and the First Amendment, THE GREAT DISSENT, I was interested to watch a history video from Seton Hall Law that gave context to a time of protests and restrictions on our rights to to speak out. Another audiobook,  SISTERS IN LAW: How Sandra Day O'Connor and Ruth Bader Ginsburg Went to the Supreme Court and Changed the World, also gets a boost from this inspiring video of the two justices in conversation.
For listeners who might be interested in legal philosophies and experiences, there seem to be more resources for those topics in print. But two staged productions, both from L.A. Theatre Works, caught my eye: The first, THE ORIGINALIST by John Strand, performed before a live audience by Edward Gero, Kerry Warren, and Harlan Work, is about Justice Antonin Scalia. The second, UNQUESTIONED INTEGRITY: The Hill-Thomas Hearings by Mame Hunt, is performed by Edward Asner, Ella Joyce, and Paul Winfield. Coincidentally, I noticed that a recording of Anita Hill narrating SPEAKING TRUTH TO POWER that we reviewed in 1998 is no longer available on audio.