Kirby Heyborne loves Ray Bradbury, and his enthusiasm about narrating A MEDICINE FOR MELANCHOLY is infectious. Listen as he shares insights into and excitement over this collection of captivating short stories.
"Ray's at his best in this collection."—Narrator Kirby Heyborne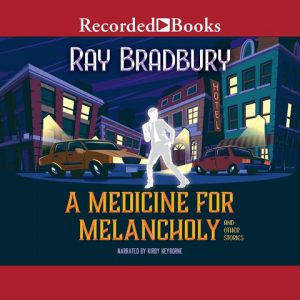 A MEDICINE FOR MELANCHOLY: And Other Stories
by Ray Bradbury, read by Kirby Heyborne
Recorded Books
AudioFile Earphones Award
Strange forgotten towns, attics that transport one back in time, mystical visitors in the night—narrator Kirby Heyborne takes listeners through these subtly strange tales with the steady grace and tempo of a pro. Heyborne presses his own unique stamp into the words of master storyteller Ray Bradbury as everyday life collides with magic and surrealism.
Kirby narrates audiobooks for adults, such as MISTER MONKEY, and audiobooks for young listeners, including SAVING WINSLOW and THE SKY AT OUR FEET. Check out his full and extensive audiography.