By the time you read this, we may have had our first November snowfall here in the Northeast. Saying goodbye to the warm weather is easier for some of us than others. I'm a true New Englander — by August or September, I am so sick of heat and humidity, I am more than happy to say hello to sweaters, cocoa, and falling leaves. It's the same with every season — by the time one is ending, I am more than ready to move to the next one with all of its unique joys and tribulations.
But for those of you who may be having a hard time tucking away your sandals and tank tops in favor of boots and hats, here are two absolutely charming audiobooks about lakeside love. Plus, one set on an alien tropical island (yes, I said alien), and another that just might have you trying out the rowing machine at the gym . . .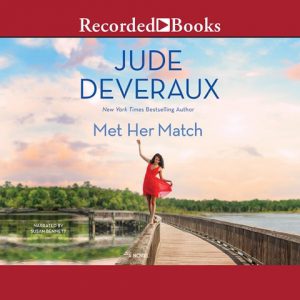 MET HER MATCH: Summerhouse, Book 4
by Jude Deveraux, read by Susan Bennett
Recorded Books
This is a new title that I really enjoyed listening to. I love Susan Bennett — she does a variety of characters with distinction — and Jude Deveraux is a true storyteller who draws you into her yarn. Terri Rayburn meets gorgeous Nate Taggert in her Lake Kissel cottage in Virginia and immediately knows he's "the one." Except he's engaged to the mayor's daughter. Terri feels completely out of her depth — she's "just" a lake manager with no social status or elegant manners. Bennett creates this uber-god voice for Nate so that you, the listener, can long for him as much as Terri does. Meanwhile, you're dragged along after Terri to all her lakeside adventures — boat rescues, summer festivals gone haywire, picnics with Nate and his fiancé. There's never a dull moment here, and listeners wouldn't want it any other way.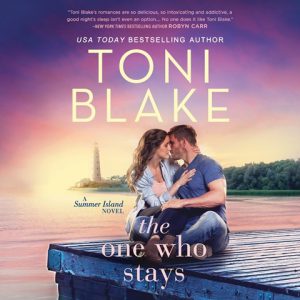 THE ONE WHO STAYS: Summer Island, Book 1
Toni Blake, read by Ann Marie Gideon
Harlequin Audio
For another new title, how about Ann Marie Gideon's narration of THE ONE WHO STAYS? Meg now runs her grandmother's bed-and-breakfast, and things get interesting when her new handyman Seth tempts her to rethink her romance with her absent boyfriend Zack. Gideon has a smooth voice and an even pace, just like the waters of the Great Lakes that surround Summer Island. Gideon creates realistic pictures in your mind of the island and its habitants so that listeners can have an immersive listening experience. And who does Meg choose in the end? Only those who listen will know!
LAUREN'S BARBARIAN: Icehome, Book 1
by Ruby Dixon, read by Felicity Munroe and Sean Crisden
Tantor Media
When I was putting together this mash-up, I had just re-listened to LAUREN'S BARBARIAN, and I had to include it as a totally non-traditional recommendation. Lauren is kidnapped from Earth and ends up on an icy planet with other Earthlings and blue aliens. Then, she gets stuck on a burning spaceship and escapes only to be shipwrecked on a tropical island that just happens to be below an active volcano. Picture Romancing the Stone meets Tarzan meets Star Wars. Lauren spends a lot of time escaping danger in the sea, so I'm counting it toward our theme (winks). Now that the stage is set, I need to convince you that this is the best sci-fi romance audio that I can think of. First, as I described, it's a little bit of everything, including humor, adventure, culture-shock, and tons of steamy romance. Second, and I can say this even more after listening to it a second time, it's a superb narration. Munroe and Crisden switch between Lauren and her blue hottie K'Thar seamlessly, in terms of storytelling, pacing, and production values. Lauren has a sweet-sounding voice, and her romantic journey is just as compelling as her dangerous escape to the island. Crisden does a fabulous job with K'Thar's alien accent — it's not derivative of any Earth accents, and he creates a really likable set of character voices. Did I mention that there are lots more Icehome novels? You're WEL-COME!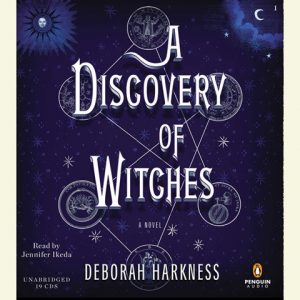 A DISCOVERY OF WITCHES
by Deborah Harkness, read by Jennifer Ikeda
Penguin Audio
AudioFile Earphones Award
I love to recommend A DISCOVERY OF WITCHES, which is now a streaming show (and is just out on DVD for old-school watchers), as a epic paranormal romance. But today I am recommending it for the enchanting scenes where Diana Bishop, secret witch and visiting scholar in Oxford, England, rows on the river to clear her head and focus her mental energy. Her reluctant suitor, vampire Matthew Clairmont, often stalks alongside her on the riverbank. The scenes are slightly ominous and have that inevitable quality that all the best love stories do. Ikeda excels at setting the mood in these scenes — she creates a dreamy, secret-world quality that allows Diana to row in the fog, apart from any human (or non-human) interference in her exercise. There's a deep, smooth, red wine voice for Matthew and a more hesitant, yearning quality to Diana's remarks that are perfectly suited to this elegant couple. It's always the right time to listen/relisten to this title . . . and then, of course, continue with the rest of the series.