See the yellowed pages in my copy of PRIDE AND PREJUDICE?  That's to prove that I am a true Janeite.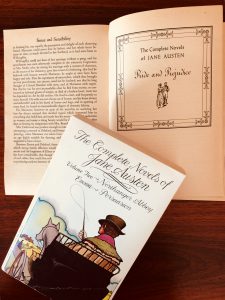 Bona fides established, let me tell you about the literary mashup PRIDE AND PREJUDICE AND ZOMBIES, by Seth Grahame-Smith, in which the basic P&P plot line and tone are intercut with zombies roaming the 19th-century English countryside. Yes, Jane and zombies are ridiculous, but I listened during one of those complicated family summers, and its occasionally gruesome silliness was a magic diversion.  Author Steve Hockensmith has written two subsequent mashups of the mashup, which are also crazy funny: PRIDE AND PREJUDICE AND ZOMBIES: DAWN OF THE DREADFULS and PRIDE AND PREJUDICE AND ZOMBIES: DREADFULLY EVER AFTER. Most importantly for us, all three were narrated by the amazing Katy Kellgren, who won an Earphones Award for the second volume.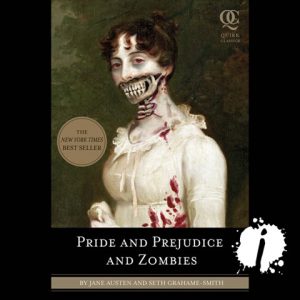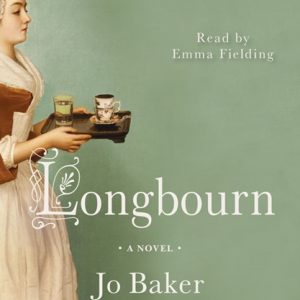 Now for the traditionalists among us, I savored Jo Baker's LONGBOURN so much that I own it in both audio and traditional formats. The rich and nuanced novel tells the PRIDE AND PREJUDICE story from a below-stairs point of view. In an Earphones Award performance, dulcet-voiced Emma Fielding introduces us to housemaids Sarah and Polly, the cook, an unusual groundskeeper, a black footman—all vibrant personalities whose fully-realized lives and observations of goings-on upstairs offer a fresh take on the well-known story.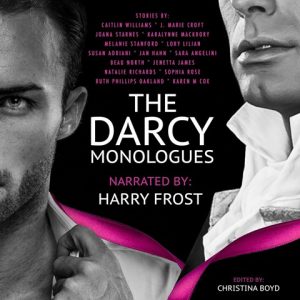 Want more of the characters you know, love, and hate?  Well for those like me who have a thing for Darcy despite wanting to strangle him, the fifteen Darcy-inspired short stories by different writers in the recent THE DARCY MONOLOGUES are as delicious as a buttery scone with a side of astringent lemonade. In a feat of vocal dexterity, narrator Harry Frost captures the reserved fellow perfectly, whether the story is set in Austen's era or in our own.
So what happened after Elizabeth and Darcy married? According to the great P.D. James, they experienced six years of wedded bliss followed by a mysterious murder in the neighborhood. Admit it, isn't that what you always hoped would happen? Well, I did. DEATH COMES TO PEMBERLEY, expertly read by Rosalyn Landor, is pure deliciousness. It's true to established personalities while allowing them to grow and, as you would expect from an author who said that she wrote "to examine havoc and restore order," the novel offers a psychologically astute murder mystery.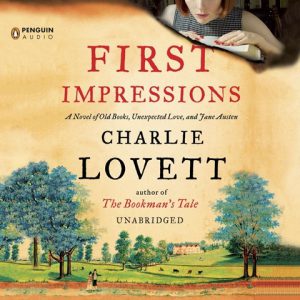 Charlie Lovett's novel FIRST IMPRESSIONS also offers mystery, this time in the form of  American bibliophile Sophie Collingwood as she investigates the possibility that Austen plagiarized PRIDE AND PREJUDICE. The clever and witty tale, which alternates between Sophie today and Jane Austen yesterday, is performed so very well by Jayne Entwistle, who won an Earphones Award for her work. Lovett, whose novels also include the recent LOST BOOK OF THE GRAIL, once owned an antiquarian bookshop and still collects books and book ephemera, including Lewis Carroll's 1888 typewriter. So he's a man who knows all about book-obsession (and he's huge fun for even the less book-obsessed).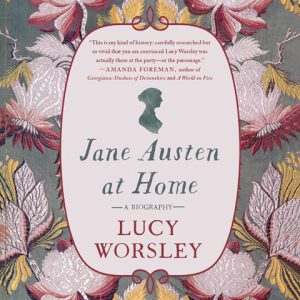 Since Lovett's novel takes us into Austen's world, let me finish by not flipping Jane on her head. Instead, Lucy Worsley's recent biography, JANE AUSTEN AT HOME, explores the places and spaces in which Austen lived and what they tell us about her novels, her life, and the lives of women in the Regency and Georgian periods. Ably narrated by Ruth Redman, it's an absorbing audiobook that made our reviewer want to listen again to the Austen canon.
While listening, she might wish to dab herself with "Elizabeth Bennet" essential oil by Scentings, which according to a review is an all-natural mix of clary sage, palmarosa, ylang-ylang, lavender, and bitter orange. "Relaxing yet strengthening," says the review, which even pinpoints the section in P&P that might have inspired the scent. I believe that the calm, strong, and occasionally acerbic Miss Austen would approve.