You know actor LeVar Burton from "Reading Rainbow," "Roots," "Star Trek: The Next Generation," and more. He's also an audiobook narrator, and he hosts a podcast narrating short stories called "LeVar Burton Reads." In a bonus episode of our new podcast, Behind the Mic with AudioFile Magazine, Jo Reed speaks with LeVar about what it was like to narrate the biography of one of his heroes, Fred Rogers. Listen in to their conversation, below.
"I wanted to be the voice of Fred's biography because I felt like it would be a way for me to honor him."—Narrator LeVar Burton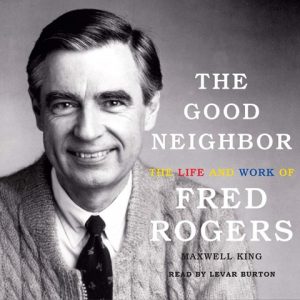 LeVar considered Fred Rogers a friend and mentor, and when the opportunity to narrate THE GOOD NEIGHBOR arose, LeVar jumped at the chance to honor the creator and host of the iconic PBS television series "Mr. Rogers' Neighborhood." LeVar discusses getting to know Fred Rogers, their shared vision for creating engaging and meaningful programming for children, and his acting career launched by his role in "Roots."
For millennials who grew up with LeVar on "Reading Rainbow," or Gen Xers who loved Mr. Rogers, LeVar tell us about how he came to focus on reading aloud to children and why he continues to believe in the power of the spoken word and storytelling.

On our podcast, Behind the Mic with AudioFile, we highlight favorite audiobooks in short daily episodes, along with extended feature conversations with narrators and authors—like today's bonus episode with LeVar Burton. We hope you listen and subscribe on iTunes, or your favorite podcatcher.