In AudioFile's latest narrator video, Lisa Flanagan tells us why she's so intrigued by the shades of gray in Naomi Novik's fairy tale retelling, SPINNING SILVER. Her insights will make you want to listen.
"In fairy tales, we are often given archetypes that easily fit into 'good' and 'evil,' and SPINNING SILVER is filled with so much more wonderfully complex characters."—Narrator Lisa Flanagan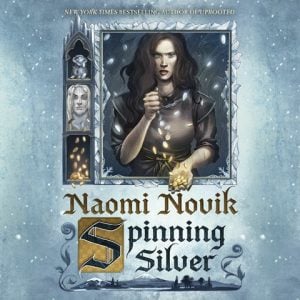 SPINNING SILVER
by Naomi Novik, read by Lisa Flanagan
Random House Audio
AudioFile Earphones Award
This retelling of Rumpelstiltskin has all the markings of a future classic. A young woman with a special gift attempts to save her family but is swept up in a world of magic and demons. What follows is a dark fantasy focused on three complex women in a morally nuanced world. Lisa Flanagan's accents and inflections, elevate the story wonderfully. Every character benefits from a distinct and engaging voice, particularly the raspy growl of the fire demon.
Lisa Flanagan also won Earphones for the first in a children's fantasy series, ENDLING #1: THE LAST by Katherine Applegate. Check out her full audiography.