Why not take on AudioFile's Listening Challenge #12: Listen to an audiobook performed by your favorite narrator. As an audiophile, I often find myself looking for my next audiobook by following my favorite narrators to their next performance. There are narrators whose reading of an audiobook touches me in a way that is special—entertaining or even comforting. Those are the audiobooks I listen to multiple times. Following a narrator often introduces me to new authors or even genres.
Let me share with you my top three favorite male narrators, and in my next blog post, I will talk about my top three favorite female narrators.
I am a true fangirl when it comes to Golden Voice Dion Graham, who I got to meet in person at The Audies Gala (March 2020). Graham's deep, smooth voice makes it very easy for listeners to engage with characters and plot. He's earned many Earphones Awards, including for Walter Mosley's TROUBLE IS WHAT I DO. Graham has narrated many of Mosley's audiobooks. Beyond mysteries, Graham narrates many genres, including audiobooks for children. To experience the breadth of Graham's talents, and particularly If you want to share his voice with children and young adults, you might want to explore his reading of CLEAN GETAWAY by Nic Stone (for ages 8+).
Another favorite narrator for me is Golden Voice George Guidall, who performs three of my favorite series. What is so impressive to me about Guidall's performances is that he is able to inhabit and convey characters from such different worlds. He has become the voice for Daniel Silva's Gabriel Allon, the Israeli spy and art restorer. The latest addition to this series, THE ORDER, earned Guidall an Earphones Award. Guidall provides the voices, accents, and personalities for the many characters that inhabit Allon's worlds across Europe and the Middle East.
Guidall has also become the voice for the characters of Randy Wayne White's Doc Ford series that takes place in Florida and the Caribbean. Far from the world of Gabriel Allon, Guidall masterfully conveys the world of Dinken's Bay that author White has created. The most recent book in the series is SALT RIVER.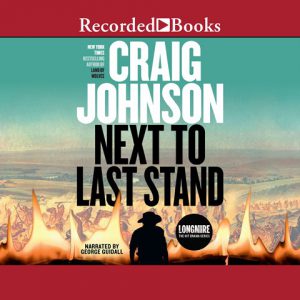 Guidall takes his talents further west to voice Craig Johnson's series featuring Sheriff Walt Longmire, which takes place in and around Wyoming. The latest in the series, book #16, NEXT TO LAST STAND, was just released this September. Guildall's mature, gravelly voice seems a perfect match for Longmire.
George Guidall has performed hundreds of audiobooks across many genres. So, if you are following a narrator to your next listen, Guidall can keep you well-satisfied for years.
Another narrator at that level is Golden Voice Simon Vance. The magic of Vance's narration is his light touch, his use of subtle accents, and his ability to perform female characters as well as he does male. I got hooked on Vance's narrations through the "Girl Who" series. He has been the voice of the one and only Lisbeth Salander from the beginning of Stieg Larsson's Millennium Trilogy through the continuation by David Lagercranz. The latest (and as far as Lagercranz is concerned, the final installment of the series) is THE GIRL WHO LIVED TWICE. Vance's audiography is incredibly varied and extensive. In just the past couple of months his audiobook releases have included a mystery, THE HOUSE IN THE WOODS by Mark Dawson; a book for children, THIS RAINDROP by Linda Ragsdale; and a biography, J.R.R. TOLKIEN by Colin Duriez. And that is just the tip of the iceberg. If you want to spend hours and hours with Vance's voice, you can pick up THE PUNISHMENT SHE DESERVES by Elizabeth George and listen to more than 22 hours of Vance's brilliance.
I listen to many, many audiobooks and have tremendous respect for the narrators who sit in their booths bringing characters and plot alive. I continue to expand the list of my favorites—so look at the above as just a start. Who are your favorite male narrators? Feel free to share with me in the comments.