I love graphic novels: the dance on the page between dialogue and art and the way speech bubbles and sound effects create the illusion of sound. I was naturally skeptical about audio adaptations. The illustrations are so integral to the experience—how could a 100% aural presentation compensate for their loss? So I tried one.
To my astonishment, the experience was not one of loss at all but one of plenty. The audio script filled in narrative details supplied by the illustrations in the original; the actors' vocal skills realized the characters as individuals; the sound effects were actual sounds. How cool!
I was convinced but still curious. I happen to love learning how the sausage is made, so to find out more about the adaptation process, I spoke to the creative minds behind three recent audio adaptations of graphic-novel memoirs for middle-grade listeners.
The process often starts with a script, but it's probably not what readers and listeners imagine. A graphic-novel script starts with a panel-by-panel description of what the illustrations should depict. But it's a foundation.
Shannon Hale, author of BEST FRIENDS (illustrated in print by LeUyen Pham and colored by Hilary Sycamore), played an active part in Macmillan Audio's process, starting with the transformation of her original script into what listeners hear. "It's leagues different," Hale says. Christina Soontornvat turned her original script for THE TRYOUT (illustrated by Joanna Cacao and colored by Amanda Lafrenais) over to executive producer John Pels and his team at Scholastic Audiobooks. "How is this going to work? It's a completely visual medium," Soontornvat recalls wondering. But director Kevin Thomsen and writer Garet Scott "did a fantastic job at resurrecting the script back into words that would be spoken."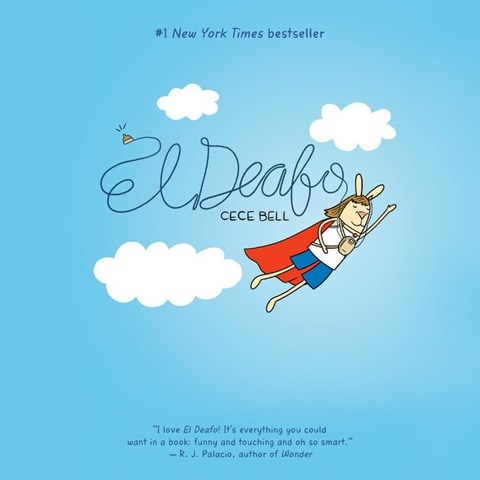 Cece Bell did her own illustrations for her Newbery Honor–winning EL DEAFO, and Penguin Random House Audio executive producer Matie Argiropoulos worked from the finished book. During the audio production, Argiropoulos had the quality-control team listen and read along, telling them, "If you feel that something is lost, let me know, and I'll have [the actors] describe it." In this way, Lexi Finigan and Sarah Tubert, the two Deaf actors who play child Cece and narrator Cece, collaborated in creating the narrative. "When there weren't bubbles or narration blocks," Argiropoulos explains, "I told them, let's describe this. What do you see Cece experiencing?"
Then there's the sound design. Hale says, "We wanted to support kids who are different kinds of learners so that the print and the audio can be read simultaneously." Rather than add a lot of description, she says, "We leaned on audio cues, sound effects, music, and things so that it could feel more like a radio drama than a traditional audiobook." For THE TRYOUT, Pels had author Soontornvat record the kids' cheer as a model, rather than try to guess at its rhythm. The importance of sound design is particularly elevated in EL DEAFO, which is all about hearing and not hearing. In the print edition, Bell's speech bubbles vividly suggest her difficulties hearing; Tom Croke with Tim Bader Audio worked with Argiropoulos to ensure that Cece's dialogue and narration are clear, but most of the dialogue spoken to her is muffled to capture her experience.
Every choice in all three books seems to have been made with equal care. Some were planned, such as having Soontornvat's Thai-speaking sensitivity reader give THE TRYOUT a listen for pronunciation and deciding that Texas twang actor Brian Sounalath would give Christina's father's Thai-accented English. "I love that," Soontornvat exclaims. Other decisions were made well into production. For BEST FRIENDS, Hale originally wanted the male actor who plays the villain in the fantasy novel young Shannon writes to voice her younger self's anxiety, represented in print with sinister white-on-black lettering. "When I listened to it, I realized, 'Oh, this is all wrong.' It was scary in the wrong way." She asked Macmillan Audio to re-record those lines with Mia Jenness, who plays young Shannon. "They graciously did. And I was really happy we did because it feels much more accurate to the experience."
That sums up the results of all this care: three excellent graphic novels and three excellent audiobooks, each accurate to its experience. Like I said: How cool.
Vicky Smith has been evaluating kids' books for more than 20 years, as a reviewer for Kirkus and Horn Book as well as AudioFile. She's served on the Newbery and Caldecott committees with the American Library Association and currently chairs the Astrid Lindgren Memorial Award nominating committee for the United States Board on Books for Youth.
Explore more graphic novels on audio with our Curated List.