Michael Crouch's narration earned him a spot on AudioFile's 2018 Best Fiction Audiobooks list. OLIVER LOVING is a brilliant, propulsive novel about a life-changing moment in a family, the traumas and secrets that test us, and the stories that hold us together. Listen to our interview below to get a special peek inside the work that went into recording this moving audiobook.
"One of my most important jobs is to tap into the emotional energy of the text. With this book, it's just there, and it didn't take much effort to tap into that." —Narrator Michael Crouch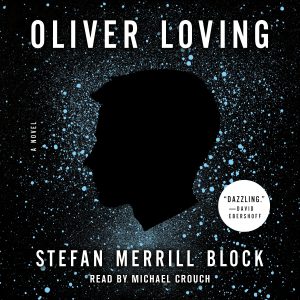 OLIVER LOVING
by Stefan Merrill Block, read by Michael Crouch
Macmillan Audio
AudioFile Earphones Award, 2018 Best Audiobook
As the Bliss, Texas, High School homecoming dance is underway, recent graduate Hector Espina, Jr., enters the school and shoots the drama teacher and three students. He runs into Oliver in the hallway and shoots him in the head before committing suicide. Ten years after the shooting, Oliver survives in a vegetative state in an institution for hopeless cases. Michael Crouch's ability to alter not only his voice but also his attitude is outstanding. He transforms what has become a tragically familiar news story into an intricate, nuanced puzzle about real people and real consequences.
Michael was also recognized for his work on two more audiobooks on our 2018 Best Audiobooks list: HOPE NATION and I HAVE LOST MY WAY. See the full list in our 2018 Best Audiobooks E-Zine.