Small towns always seem to have secrets, and Cooley Ridge is no exception. Rebekkah Ross uses a coolly detached voice to narrate this spellbinding mystery–told backwards, starting on the fifteenth day after the disappearance of Annaleise.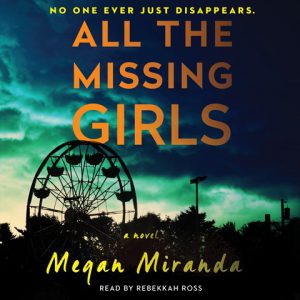 ALL THE MISSING GIRLS
by Megan Miranda, read by Rebekkah Ross
Simon & Schuster Audio
AudioFile Earphones Award
As the layers of this atmospheric mystery are peeled back, Ross subsumes herself into the story and engages listeners in discovering the truth of what happened to ALL THE MISSING GIRLS. Read our full review and listen to a sound clip here.
Browse our newest mystery reviews any time to find your next great listen!