We want this Solve to have a bit of a light touch, and Flavia de Luce always makes us smile. AudioFile is Behind the Mic with narrator Jayne Entwistle. She knows 12-year-old Flavia, the terror of Buckshaw, better than the rest of us.
"From one Flavia fan to another, who's with me?" —Narrator Jayne Entwistle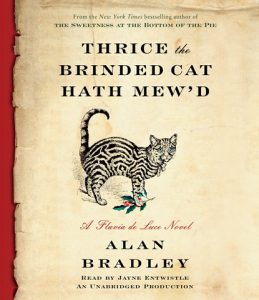 THRICE THE BRINDED CAT HATH MEW'D
by Alan Bradley, read by Jayne Entwistle
Random House Audio
Audio is the perfect format to enjoy Flavia de Luce. Narrator Jayne Entwistle can capture all the characters who populate Alan Bradley's entertaining series, as well as Flavia's passions—poisons and graveyards. One more thing we love is how author Bradley describes her escapades: "Flavia brings to light mysteries that everyone else wishes had been left buried." Listen to a sound clip of Jayne and read our full review here!

Find more recent audiobooks narrated by Jayne!
Browse our newest mystery reviews to find your next great listen!