Hazel Greenlee works transcribing police reports—and then she becomes involved in one of the cases. Angela Dawe tells AudioFile listeners about narrating HELLO, TRANSCRIBER, Hannah Morrissey's gripping and atmospheric debut mystery set in a small Wisconsin town with high crime and little hope.
"If you're looking for one of those books that will draw you in and really, really put you in the story and will stay with you for a while after, I can't recommend it highly enough."—Narrator Angela Dawe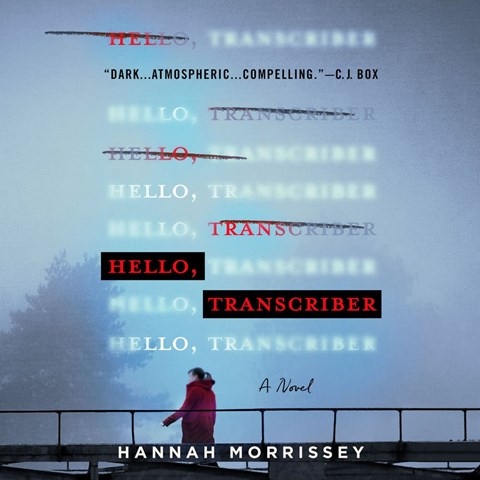 HELLO, TRANSCRIBER
by Hannah Morrissey, read by Angela Dawe
Macmillan Audio
AudioFile Earphones
Narrator Angela Dawe assumes a millennial's exasperated tone, endearing listeners to Hazel Greenlee, a wannabe novelist. Hazel's curiosity about a case involving a dead child thrusts her into a seamy murder. This riveting debut features colorful characters, including despicable crooks and lovable heroes. Dawe moves the narrative seamlessly between Hazel's amateur detective life and her troubled home life. Dawe's intelligent-sounding delivery of Hazel's ambitious vocabulary and sometimes flowery observations continually reminds listeners of the character's literary ambitions.
Find more of Angela Dawe's audiobooks in her audiography.