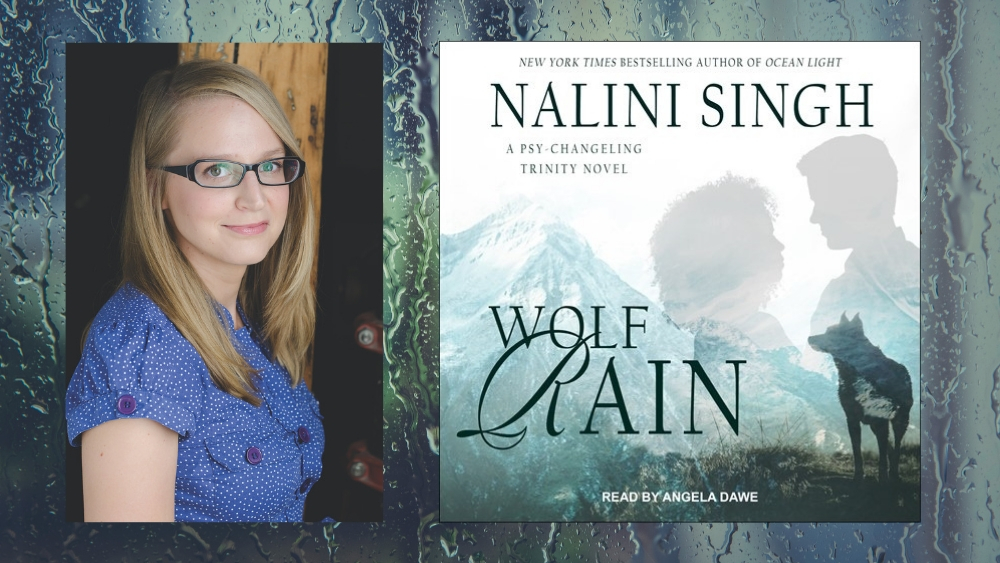 Recently I had the absolute treat of listening to Nalini Singh's WOLF RAIN, narrated by Angela Dawe. For those who don't know Singh, she has several long-running paranormal series, one of which is the Psy-Changeling series. That series has spun off into the Trinity series, which only has 3 books, so it's a great time to jump in. WOLF RAIN, part of the Trinity series, is just one of those perfect audiobooks where the listener will be fully immersed, fully enchanted, and never want to stop listening. (Be sure to check out AudioFile's review of this Earphones Award-winning title.) It was a real pleasure corresponding with Angela to hear her personal perspective on Singh's series and her work in the audiobook industry. Without further ado, let's get to know narrator Angela Dawe! 
AudioFile: You've been narrating Nalini Singh's two paranormal series for quite some time. What did it feel like when you first began narrating these books, and how has your work with them evolved over time?
Angela Dawe: When I narrated SLAVE TO SENSATION, I had no idea how many books would be in the series or what direction it would go in. Even after looking at that first manuscript, I don't think I realized what an incredible world-builder Singh is; I just thought it was a sexy romance with some fantasy elements. And it was, and that was great! But a few books into the series, I realized these stories were taking place in a much more complex and detailed world than I could ever have imagined. I continue to be delighted and astonished by what Nalini Singh creates as the series progresses. I genuinely get excited every time I hear from the publisher that another book is on the way—it's one of my favorite series to narrate.
AF: Singh's world-building is pretty particular. How do you manage to keep listeners so engaged when there are so many details to absorb?
AD: I give all credit to Singh for this. She makes all those details integral to the story, and she also makes them really interesting! I'm truly in awe of her work, so when I narrate her books, I suppose my own enthusiasm and curiosity come through, and maybe that draws listeners in. I hope it does, anyway!
AF: There are so many characters in the series, and yet every character is memorable and recognizable. How in the world do you do that?
AD: Again, I have to give most of the credit here to Nalini Singh. She is so good at creating memorable, well-defined characters, characters who have depth and complexity and humor and quirks, that it's easy for me to remember and slip into them as needed. I do keep clips of each character for reference, just to make sure I'm staying consistent, but for many of the Psy-Changeling/Trinity characters, I don't even need to go back and listen. They're so distinct in my mind, it's like I can hear their voices coming off the page. I just open my mouth and try to replicate what I hear in my head when I'm reading Nalini Singh's words, and the next thing you know, I'm snarling like Hawke or soothing like Sasha or cold and calculating like Kaleb. Or at least I hope I am! I think if I'm really present and engaged in the story I'm telling, it's far more likely that listeners will be, too.
AF: Do you have any particular favorite moments in Singh's series that you've enjoyed narrating?
AD: Oh man, where to begin. Here are a few that come to mind (spoiler alert for anyone who isn't caught up yet!):
-Sienna unleashing her X powers to defeat the attack on the SnowDancer pack
-that bear party in the StoneWater den (because bears)
-Sascha using her newfound abilities to decimate her daughter's would-be abductors
-anytime I get to do Ming LeBon's voice [Uber villain who makes a lot of trouble in Singh's series]
-the passing and mourning of Zie Zen (I cried!) [Interviewer confession — so did I.]
AF: Do you narrate with a pet?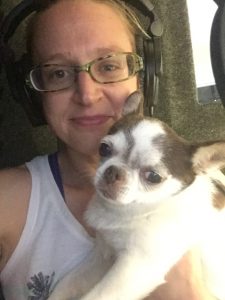 AD: Sometimes, yes! I have a seven-pound rescue dog/space alien named Mabel who likes to be on my lap as often as possible, so on occasion I'll bring her into the booth with me. But she has a tendency to snore like a man fifty times her size, which can be disruptive during a recording session, to say the least.
AF: Do you want to share a little biography with your listeners? How can they connect with your work online?
AD: I'm originally from Lansing, Michigan (yes, it is the state capital but please don't be intimidated, I swear I'm just a regular person). I did a lot of theater growing up, and I always knew I wanted to be an actor, but I got a degree in philosophy, I guess so that if the acting thing didn't pan out, I'd have something to fall back on. Then I moved to Chicago and did a smattering of film and TV work and a whole lot of sketch and improv comedy at theaters like The Annoyance and Second City. And it was during that time that I started narrating books, which was a dream come true for a literary nerd who thinks faking accents is fun. At the moment I'm enjoying a sojourn in sunny southern California, but the Midwest is calling to me again, so I'll be headed back soon. As for ways to connect, I'm currently in the process of revamping my website, angeladawe.com, but in the meantime, I can be reached at [email protected] — I always love hearing from listeners.
AF: What new projects do you have coming soon that we can get excited about?
AD: I'm currently getting ready to record the next book in another series I love narrating: the Sandhamn Murders series by Swedish author Vivica Sten. Bleak Swedish noir! And I'm in the process of putting the final touches on the latest book in Jennifer Ashley's Mackenzie family series, which is a big fan favorite (and another favorite series of mine).
Thank you, Angela! Don't miss other audiobooks narrated by Angela Dawe, and get caught up on Nalini Singh's thrilling series.