You don't have to be a Jane Austen superfan to enjoy Claudia Gray's enchanting THE MURDER OF MR. WICKHAM (though being a fan certainly won't hurt!). Narrator Billie Fulford-Brown shares about the fun of narrating so many of Austen's characters from different books together in one place in this murder mystery.
"I just loved seeing how they interacted together, and what their relationships were, and to actually meet the characters a little way down the line after the end of the books that we love so much."—Narrator Billie Fulford-Brown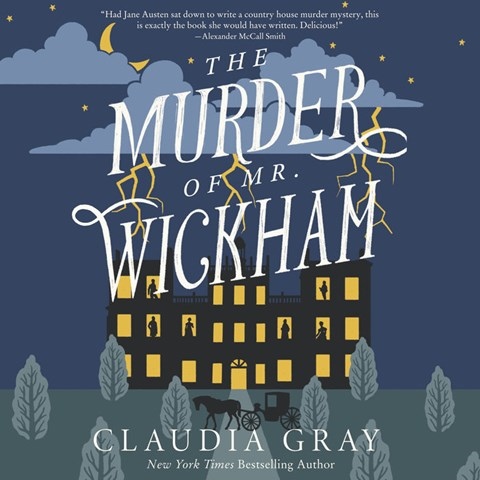 THE MURDER OF MR. WICKHAM
by Claudia Gray, read by Billie Fulford-Brown
Random House Audio
AudioFile Earphones Award
Narrator Billie Fulford-Brown's sparkling character portrayals and expressive tone create a theatrical experience of this Regency mystery. Favorite characters from beloved Jane Austen novels are featured. At Donwell Abbey, Emma Woodhouse-Knightley (EMMA) hosts a month-long gathering of her friends, including Elizabeth and Fitzwilliam Darcy (PRIDE AND PREJUDICE), Captain Frederick and Anne Wentworth (PERSUASION), and Fanny and Edmund Bertram (MANSFIELD PARK). Interrupting the festivities is the unexpected and unwelcome arrival of Mr. Wickham. When he is found dead, it becomes clear that nearly everyone had a motive for his murder.
Find more audiobooks narrated by Billie Fulford-Brown in her audiography.