Discover a gem of international literature with Eto Mori's COLORFUL, narrated by Brian Nishii. In this Japanese bestseller, a dead soul wins a lottery and gets a second chance. In his video, Brian shares some of the background on COLORFUL and why this new translation by Jocelyne Allen is worth a listen.
"It's a very serious subject, but written in such a wonderful, heartwarming, humorous way, and it gives all of us a chance to slow down and really enjoy the color in our lives."—Narrator Brian Nishii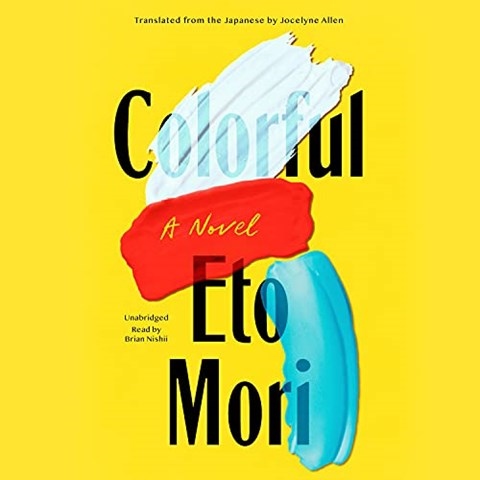 COLORFUL
by Eto Mori, Jocelyne Allen [Trans.], read by Brian Nishii
Blackstone Audio
AudioFile Earphones Award
Drawing from his childhood in Tokyo, as well as his acting experience, Brian Nishii delivers a flawless narration. As it occupies the body of Makoto Kobayashi, a 14-year-old who recently attempted suicide, a soul must learn from its past mistakes in order to be reincarnated. Nishii nimbly varies his tone between serious and comical, clearly communicating the author's light touch with sensitive topics. In Makoto's interactions with other flawed characters, Nishii displays a masterful ability to imbue each scene with heartfelt emotions.
Find more of Brian Nishii's audiobooks in his audiography.